Tonight's gig was a great lineup. The Damned, The Darkness and the Hollywood Vampires.
The Damned opened the night. Lets be honest, a band like the Damned as openers? That seems crazy, but it's testament to the strength of tonight's bill. Personally as I prefer them musically to The Darkness I'd rather have seen them on second, but in the end both got a decent length set. Kicking off with "Street of dreams" it's a fantastic set from start to finish, but then again you'd expect nothing less from these veterans. With a few dates in August and a UK tour in late November I'd definitely recommend going to one of their shows if you can.
I've got to be honest – despite having seen The Darkness several times, I'm not really a fan. I simply don't like the castrato style vocals such as they use on their massive hit "I believe in a thing called love". Given that, I wasn't expecting to enjoy their set, but I have to say – I was pleasantly surprised. They've always been a solid band and tonight Justin Hawkins is putting in a very good vocal performance, so I actually enjoyed their set with the exception of the inevitable set closer – "I believe in a thing called love".
The Hollywood vampires – a lineup to get peoples attention that's for sure. Fronted by Alice Cooper, with Aeromsmith guitarist Joe Perry, that's already a great start. To get a LOT of female fans interested they then added Hollywood star, Johnny Depp as a second guitarist (ok I'm sure that wasn't the reason why he got involved, but it's certainly the effect it had). Actually it was Johnny Depp and Alice Cooper who had the idea to form the band to resurrect the spirit of the 70s drinking club at the Sunset bar and grill. "To join the club, one simply had to out drink all of the members," says Alice Cooper, a founding member of the Vampires. "I would walk in on a typical night" Alice says, "and John Lennon, Harry Nilsson, Keith Moon—who would usually be in a costume like a maid or a chauffeur—Bernie Taupin, Jim Morrison and Mickey Dolenz would be there. The next week might be Bernie Taupin, Jimi Hendrix, Jim Morrison and Mickey Dolenz."
The new Hollywood vampires may be resurrecting the spirit, but not the drinking habits (Alice Cooper being a former alcoholic).
I've heard Hollywood vampires described as the worlds most expensive covers band, and that's a fair description, but it strikes me more as a group of guys playing the songs that they love. It's actually very reminiscent of recent Alice Cooper tours where he's done a section paying tribute to fallen friends by playing covers of their songs – this is pretty much that but without the Alice Cooper songs before and after. Ok having said that, there were a couple of Alice Cooper songs, along with couple of Aerosmith ones. There were a few original songs too, but mainly it was covers from artists such as David Bowie, Motorhead, The Who, The Doors, Spirit, The Jim Carroll band and more.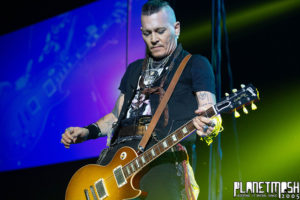 Alice Cooper is his usual self – one of the greatest frontmen around, Joe Perry demonstrates his stunning guitar skills, and we learn that Johnny Depp really can play. It must take guts to play alongside full time musicians especially when one is Joe Perry, but Johnny Depp doesn't seem intimidated and just looks to be having fun. His guitar does seem a little low in the mix but that might just have been where I was in the arena.
I really enjoyed their set. OK it's mainly covers but with a band like this you'd have to be a miserable sod not to have fun.
Check out all the photos from the night here – https://flic.kr/s/aHsmo1Rys6
[flickrapi user="planet mosh" get="photoset" id="72157698418968785″ link="o" size="z" count="30″]