Two gigs in two days for me at the Star And Garter, a new venue to me and very impressed with the acoustics, atmosphere and the bands they have playing there.
Headliners Hollowstar were supported strongly by Florence Black and gig openers Matt Mitchell & The Coldhearts who warmed a few hearts with their six song set taken from their self titled debut album released that day. Fronted by Matt Mitchell on lead vocals, they opened with the bombastic 'On And On', all hard hitting dynamics battering a sold out crowd. 'Black Diamonds', one of two singles released from the album, both championed by Planet Rock radio, hit hard with a heavy intro riff as a menacing vocal was backed by jabbing riffs and drums. 'Kings And Queens' was a sumptuous power ballad and they got heavy again as they kicked out the jams with aplomb for 'Unavailable'. 'Home', second single from the album was quality melodic rock and they waved us goodbye with 'Wave Goodbye', a big slice of heavy blues.
Merthyr Tydfil based trio Florence Black stepped up to the plate and showed their Welsh roots by opening up with a feisty cover of the Budgie classic 'Breadfan' which certainly grabbed my attention! I noticed a lot of their tee shirts in the crowd, one of which was super fan Andy Morant from Macclesfield who was shouting "That's the best I've ever seen them play" at the end of the set. They played with a steely confidence, point proven by 'The One', all greasy biker rock riffing and a lengthy raging solo from man mountain frontman Tristan Thomas. 'Fiesta' has rock radio potential for sure with its rolling grooves and melodic choruses. 'Ghost' showed their knack of writing heavy but catchy riffs as 'The Ride' flowed along like, erm, 'Even Flow' only with ten times the balls. 'Same Again' was a heavy stomp that got the headbangers going in the front rows, as did 'Gunshot', the recorded version features Benji Webb on backing vocals. Set closer 'Smoke' came all too soon as its seismic dynamics , a slow burner that shook the foundations.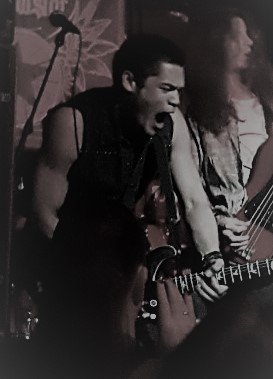 A night of flag waving rock and roll was topped off by St.Ives based rabble rousers Hollowstar, a band that have only recently come to my attention (a confession that was rightly berated by older fans Quincy Lawton and Paul Cooper after the gig) by their stunning self titled debut album, played entirely tonight to a packed out venue. Their fifteen song set included four from debut EP Some Things Matter. Fronted by the self effacing Joe Bonson, they opened with the full on 'Take It All', all furious riffing and soloing from Phil Haines and Tom Collett. Other set highlights were follower 'Down By The Water' as laid back riffs give room for Joe to lay down a rich, soulful vocal. Two in a row from the EP see 'Lay Down' have touches of 'Cochise' in the intro as it settles into foot tapping verses and 'Guilty' sees sassy vocals ooze over punchy rhythms. 'Think Of Me', saw a highly emotional ballad dedicated by Joe to Chris Jackson, who encouraged him to dedicate himself to the band but has sadly now passed away. Their already strong set was heightened by current single 'Let You Down', as a hefty main riff is backed by a melodic croon.
Another double whammy from the EP saw 'New Age Lullaby' do nothing like its title suggests as it rattled heads with a drum heavy delivery and 'Feel The Burn' was a spine tingling beautiful ballad dedicated to event organizer The Rock Fairy aka Lauren Hutcinson. 'Wishing Well' was an inspired cover as they played it the Gary Moore way that saw Phil dispense some over the top soloing. Another poignant moment saw Joe wear his heart on his sleeve to dedicate 'Good Man Gone' to Carl Malik , a friend he had lost to depression. The song was a whirl of drums, a spotlight stealing vocal and an adrenaline rush outro. A well deserved encore of ' All I Gotta Say' see Joe proclaim that the crowd hollered refrain of "Bye bye baby goodbye" was the loudest they had heard throughout the tour.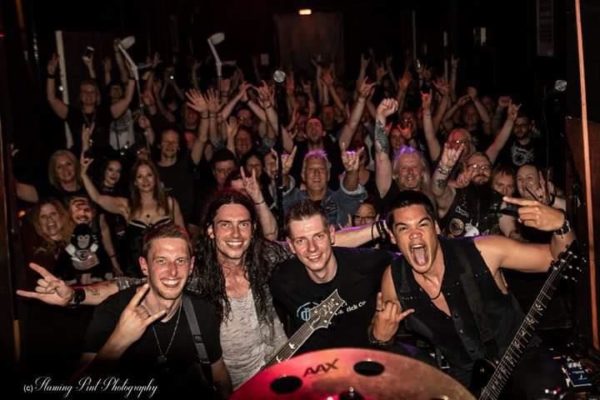 Thank you to Flaming Pint Photography for the use of this fabulous photograph. You can find Flaming Pint on Facebook here.