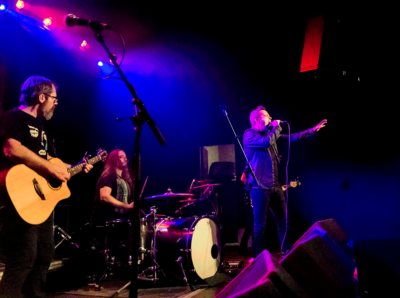 Headsticks, a band who describe themselves as 'revolutionary punk roots rock'n'roll'  hail from the world capital of ceramics Stoke-on-Trent. These 'Potters' were assembled in 2012 from pieces of Tower Struck Down and Jugopunch. They released their third album Kept In The Dark earlier this year via STP Records. The album was recorded at Riff Factory Studios in Stoke-on-Trent, and produced by Tom Carter and the band. It comes in a CD sized hard backed booklet which contains plenty of pictures, lyrics and useful information. They tour regularly and have supported bands such as Lindisfarne, The Wildhearts and Buzzcocks.
Well crafted observational and/or political lyrics can be heard in these 16 songs, written by singer/songwriter Andrew Tranter, except for It's A Matter Of Time taken from which was taken 'The Diamond Quarter Of My Soul' by the late Mark Bailey, the Trent Vale Poet. With the music being written by the band. With sixteen songs I shall try and give an overview of each song to give you a taster of what to expect from this album, and keep you in the dark (as to what Headsticks have to offer) no longer!
The album opens with the rousing, hard hitting When which draws you straight in. A reggae vibe follows in the song I Love You with the lyrics 'I love you but I'll never understand you' it could be the theme tune to John Gray's book Men Are from Mars, Women Are from Venus! The tempo ups again for the political, fast catchy song Peace Or War. Now 'I'm getting cynical' am I? Well, with the word cynical appearing at least twenty times, in the lyrics for the song of that title, I was certainly getting cynical towards the end of the song! A ballady number with quivering guitar riffs.
Mushrooms follows with a Rancid ska/punk meets The Chuckle Brothers vibe. Well it starts with a laugh but 'We're all just mushrooms that's the size of it, kept in the dark and we're all fed shit' true that, but you have to laugh and the song has laughs a plenty! Mr 'I'm Alright Jack' with a Rockabilly vibe think King Kurt meets Elvis Presley, about the person we all know who only looks out for numero uno!
My Own War starts with a gentle strumming and almost spoken lyrics before merging into a more upbeat tune, with some flamenco style riffage. The upbeat melody masking the darker meaning behind the lyrics 'Who'd have thought that laughter could hide infinite pain ' ….. 'Who'd have thought it '.
A mellower song follows with It's A Matter of Time before we come to a more glam rock number in Smoke and Mirrors which has some of the lyrics from Morning Has Broken, the Christian hymn most famously recorded by Cat Stevens, cleverly weaved in. Think Junkyard does Cat!
What If They're Right starts a bit Motorhead I'm thinking (We Are) The Road Crew   before segueing into something more akin to R.E.M.s The One I Love. A spoken intro leads into Out Of Fashion a song with a reggae vibe. In the next song Family Tree after getting fed shit (in Mushrooms) we can now eat cake to a reggae beat. As Marie Antoinette reportedly said Let Them Eat Cake. Andrew Tranter adds 'Feed the peasants rubbish and they're easier to break
Whilst All Of The Trees, has a soothing beat the lyrics are more thought-provoking, about them (the powers that be) digging up fields and cutting down trees to make way for roads, railway tracks and towns. The next track The Song For Songs Sake, however, doesn't mean anything, as there's nothing to say even though there's a disaster happening somewhere in the world. But, hey, we can all join in with the chorus. Just sing la, la, la hey hey hey!
The riffage in penultimate track When The Sun Turns Black interestingly (or not) reminded me of The Animals House of The Rising Sun in places and we stay with animals for mammoth track, at over eleven minutes long, Baboon Shepherd. Surely I can be forgiven for thinking of a man with his dog Shep, a whistle and a crook roaming the plains of South Africa trying to round up a troop of Baboons! Now, whilst this particular Baboon did live in South Africa I find that the Baboon Shepherd in question was actually footballer Samuel Shabangu, known by said nickname. Baboon was a founding member of the Orlando Pirates and Andrew found this name particularly amusing the song chugs along nicely giving us a bit of a potted history of his life and aspirations, and bands named after football clubs like Kaiser Chiefs and Utah Saints!
Lots to keep your interest or, should I say, enlighten you in Kept In The Dark the latest release from Headsticks. Rooted in folk, rooted in punk, but throw in a bit of glam, a pinch of metal, a twist of reggae and The Chuckle Brothers for good measure.
Highlight Tracks (or the tracks that stick in my head): Mr 'I'm Alright Jack': Smoke and Mirrors
Track List: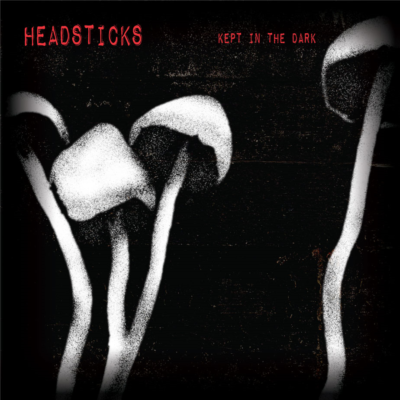 When
I Love You
Peace Or War
Cynical
Mushrooms
Mr 'I'm Alright Jack'
My Own War
It's A Matter Of Time
Smoke And Mirrors
What If They're Right
Out Of Fashion
Family Tree
All Of The Trees
The Song For Songs Sake
When The Sun Turns Black
Baboon Shepherd
Band Members:
Andrew Tranter – Vocals
Steven Dunn – Guitar and Backing Vocals
Nick Bayes – Bass Guitar and Backing Vocals
Tom Carter – Drums and Backing Vocals
Links:
Lots to keep your interest or, should I say, enlighten you in Kept In The Dark the latest release from Headsticks. Rooted in folk, rooted in punk, but throw in a bit of glam, a pinch of metal, a twist of reggae and The Chuckle Brothers for good measure.