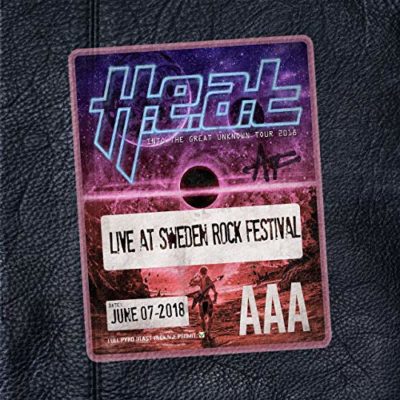 Swedish band H.E.A.T release their second live album on 26th July 2019. It's their second live release but the previous one was only a live album (Live in London) so this is their first live DVD. As the name of the release tells you, this was recorded and filmed at the Sweden Rock festival – this was during their "Into the great unknown" tour, so it's no surprise to find four songs from that album in the setlist.
OK as it's only a few years since the release of "Live in London" lets start by comparing tack listings. The good news is that there's not too much overlap – 7 of the songs on this release also appeared on "Live in London", so around half the songs, and the differences arent limited to the songs from "Into the great unknown" which was released after "Live in London". In short, even if you've got "Live in London" there's enough here to make it well worth buying "Live at Sweden rock festival"
It's a great setlist for a festival – some newish songs for the fans plus the best of the previous albums. The 2014 album "Tearing down the walls" is also heavily represented here which is no surprise as it's a great album (although of the two "Into the great unknown" is the better album – the band's best to date. Sweden Rock festival is an event all Swedish rock bands want to play and bands tend to go all out to impress, so it's no surprise that this is a great live performance.
During "Beg beg beg" they cut over mid song into a bit of "Whole lotta Rosie" then back to "beg beg beg" and then throw in a bit of Janis Joplin's "Piece of my heart" before ending the song.
Songs like "Tearing down the walls" and "Bastard of society" sound fantastic – the sort of great rock songs you'd have got from Bon Jovi at their peak, and infinitely better than anything Bon Jovi have released in the last 25 years. I'd recommend any Bon Jovi fan to check out H.E.A.T as they're almost certain to love what they hear. This album is a great starting point for anyone new to the band.
A great live release.
"Live at Sweden rock festival" will be released on 26th July 2019
Track listing:
1. Bastard Of Society
2. Late Night Lady
3. Mannequin Show
4. Redefined
5. Heartbreaker
6. Shit City
7. Beg Beg Beg
8. Tearing Down The Walls
9. Eye Of The Storm
10. Emergency
11. Inferno
12. Living On The Run
13. A Shot At Redemption