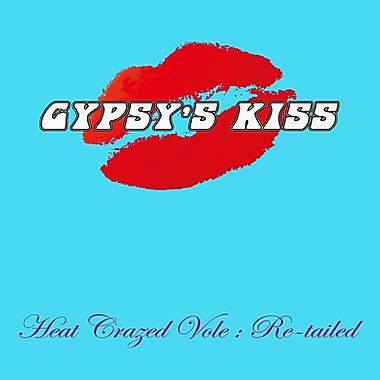 Gypsy's Kiss are back! Who you may ask? But a fair few Iron Maiden fans will know of them. Formed in late 1973 by lead vocalist/guitarist David Smith and Steve Harris on bass guitar (yes, that Steve Harris), they were known then as Influence but changed their name in 1974. Steve left to form Smiler, then of course to Iron Maiden in 1975
A reformation for a charity gig in March 2018 lead to David recruiting new musicians in 2019 and on May 1st, 2020 a remastered  Heat Crazed Vole : Re-Tailed EP  will be released on Roulette Records and digitally distributed by Cargo Distribution for Amazon, Spotify, iTunes etc.
Six tracks are two from the recent era and four that were played at their first ever paid gig in 1974! 'Heat Crazed Vole' is the first of the 1974 numbers with tongue in cheek lyrics of a heat enraged vole biting a local doctor during a hot spell of weather, printed in a local newspaper report in Sussex. "In a valley way down below, in a town looking down a hole. Scared to death, no one is speaking, not a noise but the sound of weeping".
'Endless Pit' is funky bass guitar fueled psychedelia, bringing to mind early Amboy Dukes, especially when the guitar solo kicks in. After a minute or so of some smooth, jazz like passages, I was expecting an instrumental for 'Gypsy's Kiss (What Went Wrong)' but a lead vocal follows the groove as doom like riffing peppered with twin lead guitars make for a heavy outro.
'Settle The Score', the first of the new ones shows that there is plenty of life in these old dogs as this six minute soul searching epic of hard rock and catchy choruses feature some mighty "Whoa oh oh's". 'Influence' is heavily keyboard tinged and once again I was getting Amboy Dukes influences in the guitars. Final track 'Don't Ask The Question', the last of the new songs is also keyboard dominated, adding big stabs to this hefty riffer.
Heat Crazed Vole : Re-Tailed EP track listing :-
Heat Crazed Vole.
Endless Pit.
Gypsy's Kiss (What Went Wrong).
Settle The Score.
Influence.
Don't Ask The Question.
Gypsy's Kiss band line up :-
David Smith – Lead vocals/guitar.
Jonathan Morley – Guitar/backing vocals.
Fraser Marr – Guitar.
Ross Hunter – Keyboards/backing vocals.
Robin Gatchum – Bass guitar/backing vocals.
Stuart Emms – Drums.
Using cockney rhyming slang, with this EP, Gypsy's Kiss are not taking the piss!