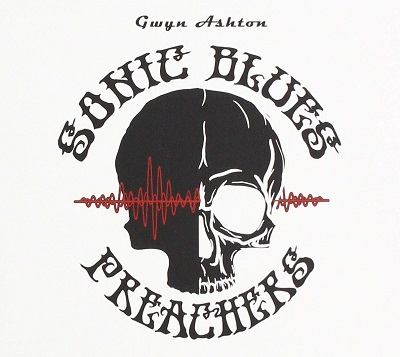 Born in Wales, Gwyn Ashton moved to Australia as a child in the 1960s, and has been playing guitar since an early age. For five years he fronted Band of Friends, the Rory Gallagher tribute act with Gerry McAvoy. The acts he's toured with or supported over the years include Van Morrison, Robin Trower, Jeff Healey, Tony Joe White, Walter Trout, Joe Bonamassa, Status Quo and many more. From that you've probably gathered that he's not just a guitarist, he's a damn good one. This is Gwyn Ashton's ninth album and on this album he's worked with Australian drummer John Freeman (who played in Fraternity with Bon Scott prior to Bon joinign ACDC).
I've got one of Gwyn Ashton's earlier albums (2012's "Radiogram") and it's a very good album so I had fairly high expectations for this album. I hit play, and listened to it from start to finish and my intial reaction was "Wow" this really is an excellent album – even better than I'd expected.
So what can you expect from the album? Well first and foremost is great guitar playing – particularly slide guitar, as well as great riffs. There are solos that don't feel like they've been tacked on to songs to show of his skills – they're well crafted so they feel like an essential part of the song. There's a real Mississippi delta feel that comes across regularly throughout the album.
The vocals are great too and there's a nice variety here – with opening track "She's what I like" featuring distorted vocals that give a sound that works well with the fuzzy guitar sound. Elsewhere the vocals range from mellow to rocky.
The more I listen to this album, the more I'm convinced my first impression was spot on – this is a great album. There's a healthy dose of traditional blues, but it's been done in such a way that it still feels fresh and up to date – merging the best of the old and the new.
A great album – highly recommended.
"Sonic Blues Preachers" is out now.
Track listing:
1. She's what I like
2. Candy store
3. Fool in your life
4. Soul for sale
5. The old fool
6. Take yourself away
7. If I don't feel it
8. She's lost her power
9. Waiting game
A great album - highly recommended.