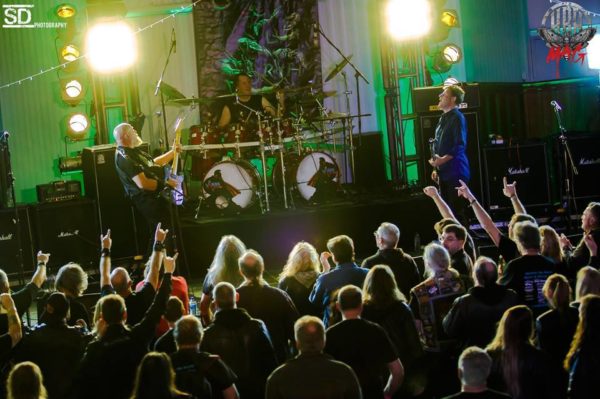 So the dreaded last day of a fantastic 3 days at Grimm Up North Festival 2019 comes far too soon as first band of the day Sellsword proved to be one of my most enjoyable sets of the weekend as the York based lunatics hammered out just four songs due to stage time delays and that lead vocalist Stuart Perry had only 2 hours to get to work after their set. Spinal Tap comes to Bury today! 2 songs came from debut album And Now We Rise which I can highly recommend and forthcoming album Unto The Breach.
Opener 'The Warrior' was all jabbing riffing from the off by James Stephenson and Henry Mahy, backed by the eccentric vocal delivery from Stuart Perry, or as he describes himself "Chief Warbler". Coming across like a cross between Blaze Bailey and Brian Blessed with his sword shaped mic stand placed in a plastic stone onstage he made for a quirky image. The standard stayed high with the full on charge of 'Unto The Breach' as 'Inquisitor' was a hulking 6 minute power metal monster with a foot on the monitors and a tongue in cheek. Closing song 'Merchants Of Menace' arrived and left far too soon as the riffs buzzed around the room like angry hornets with a chest beating call to arms vocal.
Another high energy set came from County Antrim based metallers Conjuring Fate as the full on slam of 'House On Haunted Hill' must have opened a few bleary eyes early on this afternoon. Their onstage banners claimed "100% pure Irish metal" which was proven by the heads down workout of 'Voodoo'. Twin guitar heaven blazed throughout 'Dr.Frankenstein' as 'Everglade' also headbanged furiously and 'No Escape' was humourously introduced as "About marriage". Set closer 'Trust No One' was a lengthy heavy metal opus that didn't outstay its welcome.
It's been a while since I caught up with Death Valley Knights and in that 3 year gap they have had a guitarist and drummer replacements by Voytek Golbiak and Hugo Terva that makes them sound a lot heavier, point proven by opener 'Valhalla Village' that hit hard especially from the mighty roared vocals from man mountain Jake Thorsen. Other highlights were the stomping 'Taste Of The Kill' that saw Hugo cover every inch of his drums. Every riff in 'Be The Grizzly' was hammered out with intent and brand new track 'The Return Of The Old Gods' summed up their hiatus with potent riffing and face melting solos. Set closer 'The Gift' saw them at their most slaying as they served up an apocalyptic number.
Another stunning vocal performance came from Jimi Brown of Stormbringer who raised the bar even higher with their infectious grooves. His hyperactivity burst to life for opener 'Stick' as the rest of the band blasted away behind him. This was definitely a sedate Sunday afternoon in the park! Other highlights were the sleaze rock grooves that flowed through 'Bad Blood' and they gave us chance to get our breath back during the slow burning 'Save Me' with Jimi hitting some seriously high notes. 'Grinder' lived up to its monicker but my personal favourite was set closer 'Dying Breed' that flowed on a Steve Earle like vibe. A very powerful song greeted by deafening cheers at its end.
The first taste of NWOBHM today came courteously from Blackmayne whose first half of the set I unfortunately missed due to a food break so 'Tale Of Two Cities' was dyed in the wool NWOBHM with heavy chords and fretboard burning solos. 'Hot Blooded Woman' continued in that vein with risque lyrics as the mood dropped for 'Sad', a heavy power ballad that ticked all the boxes. The anthemic 'Mighty Rose' filled the room with big band backing vocals and the sturdy riffing in 'Chosen Few' and the foot to the floor ending made it my set highlight. Heads up to lead vocalist Jay Duke for being one of the most entertaining characters of the weekend.
It was time for some girl power as Syteria brought the fun factor to the fore with a splash of punk rock thrown in to. The only male member of the band Pablo Calvo on drums laid down a hefty beat for Jax Chambers on guitar, Julia Vocal on, erm, vocals and Kiera Kenworthy on bass guitar and between them fired out 12 lightning bolts of heavy power pop to a very vocal crowd. 'Guilty' crashed in on a sea of Cheap Trick like harmonies pinned down by some furious drumming from Pablo and that vibe carried through to the powerchord driven stop start dynamics of 'I'm All Woman'. 'Reflections' thrashed out with aplomb as did brand new song 'Asylum'. A bouncy cover of 'Rockaway Beach' got us into summer mode and an old song called 'Hypocrite' was super heavy. 'Revolution' was a vocal tour de force of 3 way sugar sweet vocals and they closed with the snotty nosed bravado of 'When I Get Out Of High School' and 'New World Order' was like if Martha And The Vandellas covered a punk song.
Penultimate band of the weekend were the mighty Mythra and judging by the red Death And Destiny tshirts in the front row, they had quite a following! Another of the influential NWOBHM bands from the North East played a set of old and new recent material. Of course the Death And Destiny EP still is a major game changer but there is still life in these old dogs yet as the bulk of their set laid heavily on the 2017 album Still Burning with the title track opening proceedings that fired up the front rows from the off by some superhuman drumming from Phil Davies. 'Best Is Yet To Come' was aptly titled as 'Vicious Bastards' took no prisoners as lead vocalist Kev McGuire proved his worth with some mighty bellows. 'Prophecy', the first of 2 new songs played showed that the band have no signs of treading water as it flexed its metal muscles. The second newie 'Wild And Free' crunched along on the guitar work of early members John Roach and Alex Perry. 'Death And Destiny' was the icing on the cake of a headliners performance. Maybe next time eh?
And now the end is near and so we faced our final curtain as legendary heavy metal boogie band Vardis ended the weekend with a dream set of old and new and a post gig interview saw an extremely chipper Steve Zodiac pleased with how everything went after their 2 year live hiatus. Joe Clancy still holds down the beat but new bassist Roly Bailey impressed highly with his mastery of the Rickenbacker. Onstage glitches lead to a delay which seemed to fire up Steve even more as he strode on and launched into the rarely played 'Steamin Along'. Latest album 'Red Eye' threw up 'Paranoia Strikes',the bluesier title track and 'Jolly Roger. Sandwiched between the first 2 was an abrasive 'Situation Negative' as the main riff got me headbanging from the off. The thought provoking lyrics to 'Where There's Mods There's Rockers' saw Steve at the end of it asking "You with us? Are we wearing you out? Would you like some Sanatogen?" After 3 days of reviewing I would have necked the whole bottle given the chance. 'Out Of The Way' and 'Move ALong', the opening tracks of their debut album 100MPH got my old neck muscles creaking again as the feel good sea shanty like 'Jolly Roger' followed a bitter sweet eulogy from Steve about the sadly missed bassist Terry Horbury who passed away a few years ago. Their set flew by far too soon on a trio of barnstormers beginning with a grinding 'Lions Share', a thumping 'Radio Rockers' and of course 'If I Were King', still bashed out the way it should be.
A big shout out must go to Kevin Wynn for sowing the seed for this festival, to all the staff from the front of house, behind the bar, the stage crew, to Simon Dunkerley for his Vardis photo and finally to all the bands who travelled to play for us and support a worthy cause. I'm out of here now, hope to see you all again in 2020!