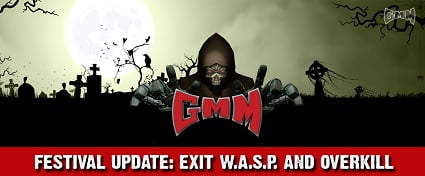 Much to our regret both W.A.S.P. and Overkill have been forced to cancel their Graspop show for Saturday 29 June.
W.A.S.P. frontman Blackie Lawless has suffered a broken leg in a car crash. As a result, W.A.S.P. have been forced to cancel their 2013 European summer festival dates, including their GMM show. On the upside, we are pleased to report we have found a suitable replacement in ICED MOTHERFUCKING EARTH! Indeed, the American power metal kings are returning to the Dessel plains. Their epic and emotional performance at GMM2011 was their last Belgian show with vocalist Matt Barlow. This year they're back with new frontman Stu Block, whose vocal skills are every bit as impressive as those of his predecessor. For the last eighteen months they've been touring the globe practically non-stop in support of the Dystopia album. On 29 June this well-oiled metal machine will unleash its ferocious power on the GMM crowd so warm up those neck muscles and prepare to weather the storm!
Official statement: "Blackie Lawless was injured in a vehicle related accident that resulted in him breaking a leg. Complete recovery is expected following surgery. W.A.S.P. apologizes with all sincerity and say to all of our fans that we will be back next year bigger and better than ever. Blackie would also like to thank in advance all of those who wish to make inquiries about his well-being."
Overkill is being replaced with Steak Number Eight. Ever since they became the youngest ever winners of Humo's Rockrally in 2008, their career kicked into high gear with three full-length releases, extensive touring across Europe and support slots for Deftones, Torche and Pelican. Their latest album, 'The Hutch', garnered rave reviews both in Belgium and abroad. In spite of their youth, Steak Number Eight can already be considered a top act on the European sludge metal scene.