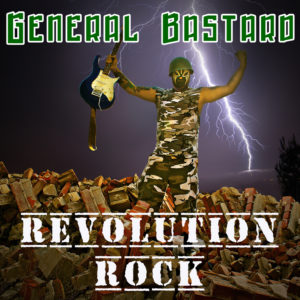 Michigan's General Bastard (a.k.a Dean Carls) released an 11-song album, Revolution Rock, chock full of old-school punk rock attitude.
This full-band effort was recorded at a professional sound studio in Michigan and sounds like it, with clear attack, good balance, and good definition between instruments.
Songs have that catchy, simplified structure – no complex parts or orchestration here – and feature hilarious songtitles like "Fuck Kim Kardashian" and "GDMSOB" (= God Damn Motherfuckin' Son Of a Bitch).
S.O.D did it first, but this is a fantastic indie band to listen to when you want to hear 'more punk, less thrash'.
Track Listing:
Devil and the Deep Blue Sea
Movin' On Up
Casey Anthony
GDMFSOB
Fishing in a Canoe
Surf Nacho Libre
Jesus Ain't Gonna Save Ya
There's a Deal Going Down
Fuck Kim Kardashian
Having an Average Weekend
Veinte
Not the American Dream