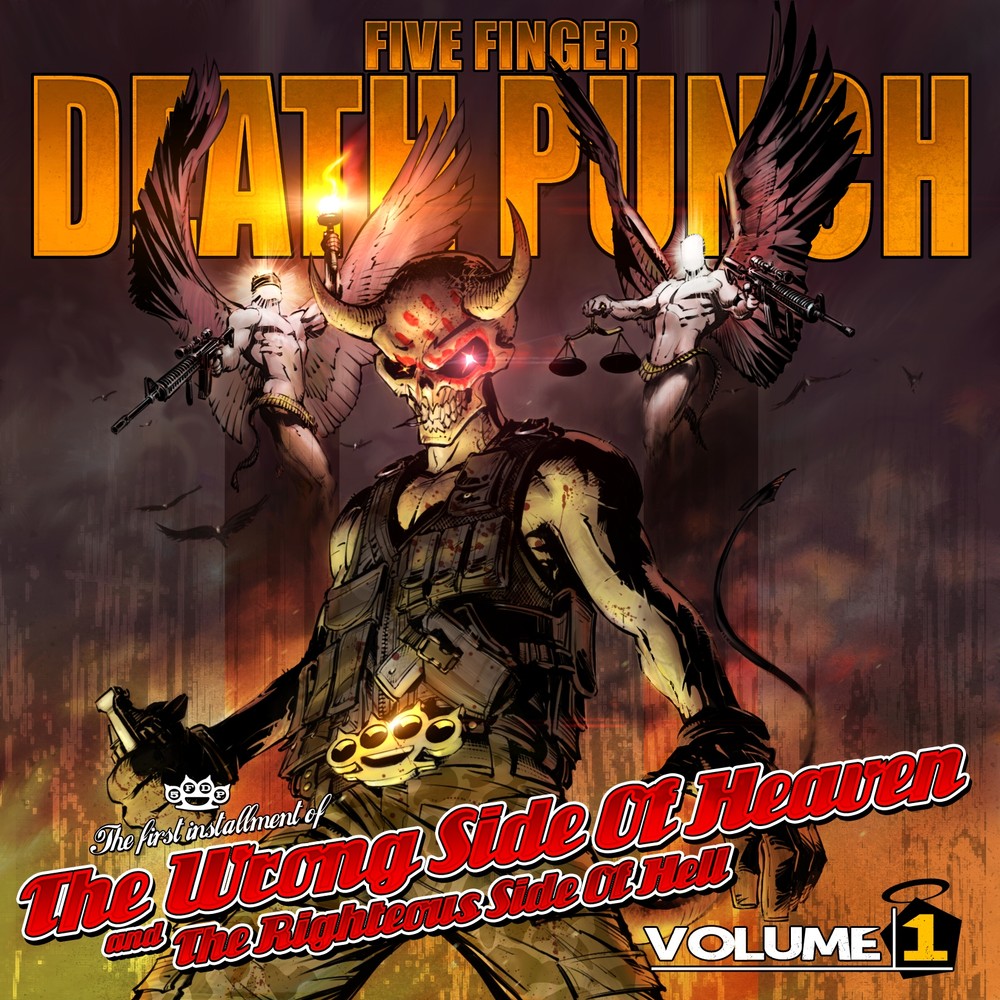 It's been a while since I reviewed an album ( I think my last was Wolfsbane Save The World) so I may be a little rusty, so apologies in advance.
Anyway on with matter in hand, It would seem that Five Finger Death Punch are not the taste of your average metal head (not that I am saying there is any such thing as an average metal head) however I have always liked them and had a little soft spot for tracks like "The Way OF The Fist" and "No One Gets Left Behind" and so far on my first listen"The Wrong Side Of Heaven And The Righteous Side of Hell, Volume 1" isn't disappointing in anyway. Track one "Lift Me Up" which features Rob Halford of Judas Priest (in case you didn't know) is a cracker of an opener, it has the sound of classic FFDP all except a little either keyboard or guitar synth solo stuck in there which to me does sound a little out of place however that aside it's a promising start.
Blended perfectly with track one is "Watch You Bleed" which begins with a gentle acoustic guitar which escalates quickly into the crunchy guitars and double pedal drum we know and expect from FFDP there's an interesting on purpose stutter at about the three minute mark of this track and out of the two so far if I was playing a track from this in a club it would this one for an earlier in the night track.
As usual with my album reviews I am not going to write about every track as (a) I'd get carried away and you'd never read the whole review and (b) I like to leave you all some surprises, mind you saying that I really do like the third track "You".
Track four is the title track "Wrong Side Of Heaven" and although the title doesn't contain the whole album title the song lyrics do. It begins softly with a nice touch referring to God as a Woman and the Devil as a Man, this track is actually giving me goose bumps, this is defiantly a FFDP ballad and Zoltan's solo in this track is technical brilliance, Ivan's voice carries through this track beautifully and I think I now have a new favorite FFDP song.
Yes! Track Five "Burn MF" which opens fast and furious contains one of my favorite FFDP elements and that's a healthy dose of swearing! (I'll let you guess what M.F stands for as Kids read this) suffice it to say I like this track a F**king lot.
Hold on a minute what happened to me not writing about every track? I told you I get carried away! And this album has 14 tracks so I best skip a few as surprises.
I have to say something about track seven "Anywhere But Here" which features the beautiful Maria Brink of In This Moment, Maria's contribution is subtle but noticeable and distinctive (hope she's in the video, if they make a video for this track) the song contains some very interesting breakdowns (where you will notice Maria's contribution the most) but this is definite single material and please make a video and PLEASE have Maria in it!
On to track ten which is the compulsory FFDP cover and this they time take on "Momma Said Knock You Out" which was originally recorded by LL Cool J and with the FFDP touch, it's a beast of a tune and I am going to be playing this A LOT, Nice breaks and some nice little homage's to the original – brutal cover and personally infinitely better than the original.
Next track I am going to mention is track twelve "I'M Sin" which features Max Cavalera ( Cavalera Conspiracy) as you would expect there are some awesome riffs in this little illegitimate son. Loving the lyrics too "You may think you're God but I know I am SIN" and this is actually the final track on the album as 13 and 14 are bonus tracks which are "Anywhere But Here" which is redone as a duet with Maria Brink and "DOT Your Eyes" (track eight) this time featuring Jamey Jasta of Hatebreed and also the owner of Stillborn records and is interestingly the same age as me.
In conclusion then FFDP return with a very strong album, I would even go as far to say this album contains no filler (two bonus tracks aside) and I already have some favorite tracks which I will be assaulting the ears of London with on a regular basis. Go out and get it!
Rating: 8 out 10
http://www.fivefingerdeathpunch.com/
Five Finger Death Punch begin their UK tour with Avenged Sevenfold in Manchester on November 30th and take in London, Dublin and Birmingham before moving onto Europe, for full tour listings please check their website.