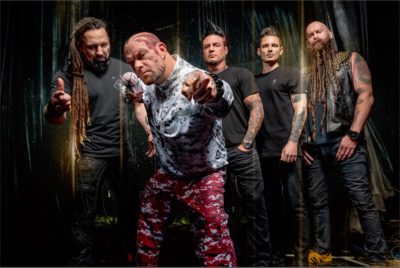 Proprietors of the coolest band name in  music since Congratulations On Your Decision To Become A Pilot,  Las Vegas finest Five Finger Death Punch return to the ring with album number eight, and one that comes on the back of a tough personal journey. In 2017 when performing in Tilburg, Netherlands,lead singer Ivan Moody stunned the audience when he announced that the gig would be his last hurrah with the band. The shock statement was the result of a heavy drinking session the previous night. But having completed a seriously stern stint in rehab, Moody took on his demons in the biggest fight of his life and reigned supreme.
And the knock on effect has been massive as his return to the band and working in a sober environment has resulted in one of the strongest albums of the bands career.
Once again Kevin Churko is at the production wheel brilliantly steering a sixteen track beast of pounding heaviness described by Moody as 'absolution'. And you do get a sense of cleansing early doors with the sombre feel of the instrumental title track which then powerfully gravatates into the personal redemption of 'Inside Out'.
Like the likes of Canadian radio Rockers Nickelback, FFDP are often the butt of jokes and blinkered music snobbery by pockets of small minded Rock fans  who can't stomach their anarchic mix of Pop melodies straddled with angry Metal. Well the Las Vegas crew continue to have the last laugh as records sales evidently show. And with the stadium Rock thrust of  Living The Dream and the razor blade chewing mosh-fest of 'Bottom Of The Top', that should continue to be the norm.
Newcomers to the band might be a tad unnerved at the opening chords of 'A Little Bit Off' as Extreme's bile inducing 'More Than Words' momentarily springs to mind. However Moody's closing line of  "you can all fuck off today" tells you this ain't no twenty to two in the morning drunken slowdance number.
As far as mainstream radio play goes this album is littered with tracks suited and booted for prime time listening pleasure. The intense 'Darkness Settles In' is a banker and it's deep undertones deserve to be sung in millions of households.
Away from the  albums heavy content, the standard of musicianship is of a superior level. The weighty guitar work on the bullish 'Scar Tissue' and 'This Is War' from lead man Jason Hook and his rhythm buddy Zoltan Bathory exudes a steely authority. Album highlight is one of the three bonus tracks 'Death Punch Therapy', which is classic pounding  FFDP and should have a higher placement.
Jam packed full of expletives, raw honesty and rebellion, would you want a Five Finger Death Punch album any other way?, I doubt it.
Track Listing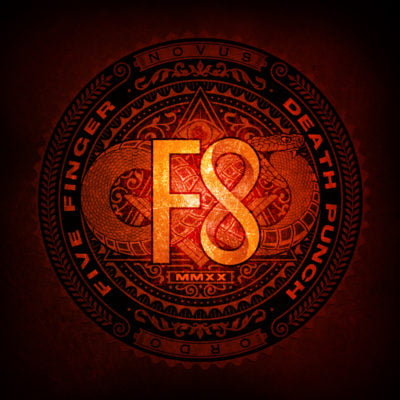 F8
Inside Out
Full Circle
Living The Dream
A Little Bit Off
Bottom Of The Top
To Be Alone
Mother May I(Tic Toc)
Darkness Settles In
This Is War
Leave It All Behind
Scar Tissue
Brighter Side Of Grey
Making Monsters (Bonus Track)
Death Punch Therapy (Bonus Track)
Inside Out (Radio Edit)
FIVE FINGER DEATH PUNCH: 
TWITTER | INSTAGRAM | FACEBOOK | YOUTUBE | SPOTIFY | APPLE MUSIC| WEBSITE
Five Finger Death Punch jab you into submission with a stunning new album.