Scotland's Hardcore exponents raise the bar with a cracking album of real class.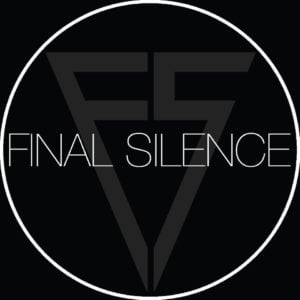 This is definitely one of those albums that picks you up and shakes you about a bit.
Final Silence have been around for some seven years or so now but seem to have raised the levels of expectancy considerably higher since becoming a five piece, adding a new angle to their music both live and in the studio.
I guess it's safe to say that Final Silence fall into the Metalcore/Hardcore camp but their music is so much more than that, carrying elements of Groove Metal and even a hint of Djent in the odd place.
Kicking off with 'System Failure' you immediately get the feel of what the band are about, second track 'Honesty' though is an even better demonstration of what the band can produce, thunderous and technical riffs led by an abrasive and full on vocal that has the added bonus of remaining perfectly coherent throughout. 'What You Haven't Earned' carries things on to the next level, a wonderfully catchy chorus backed with a riff straight from the Pantera book of riffage and a mix of solo and gang vocal that works really well.
The band have evolved immensely since their debut album 'We Are This For A Reason' both in terms of writing and composition and indeed delivery. As debuts go it was an excellent one, full of raw and earthy Hardcore but the follow up is way more polished and 'professional' sounding and in terms of getting up the rungs of the ladder of success, this album takes many a  big step forwards.
The vocal performance of Willie is packed with harsh and anger fueled passion but is beautifully controlled, knowing when to restrain and when to unleash is all important in this genre of vocal and he has it down to a tee, ably backed I must add by some really well placed and thought out clean vocal courtesy of Bass player Swan, 'Bare Bones' is a track that demonstrates all the above well.
It will be very interesting to see where this album propels the band to, the talent is so obviously there for all to see, plus the band have been around long enough now not to fall into the flash in the pan category. The major hurdle is undoubtedly the wealth of competition they face in what has become a very saturated market but, based on this album, I'd say they have every chance of creating some major waves. If you like the Metalcore scene in general but fancy trying something a little bit different, then this is well worth checking out.
Track Listing;
1. System Failure
2. Honesty
3. What You Haven't Earned
4. Headhunters
5. Don't Hold Back
6. Mechanical Storm

7. 16 knives
8. Bare Bones
9. Drinking With Sharks
10. Betrayed By Our Brothers
Final Silence are;
Willie – Vocals
Dave – Guitars
Mikey – Guitar
Swan – Bass and Backing Vocals
Riki – Drums
'More Human Than Human' is out now.
https://www.facebook.com/pages/Final-Silence/285063909881