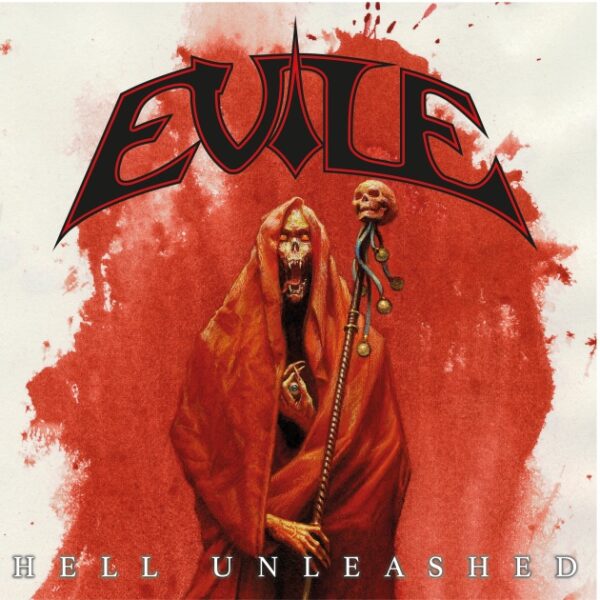 Welcome back Evile! And what a return this is with their stunning new album Hell Unleashed, released via Napalm Records. It's their fifth studio release and an eight year wait since the 2013 Skull album but it's worth it. Line up changes see the Huddersfield based band recruit Adam Smith on rhythm guitar and Ol Drake return not just on lead guitar but lead vocals to.
Nine tracks thrash, bash and slash to your senses as the album fires up with opener 'Paralysed'. An ominous hum heads into hell bent for thrash heaven as the riffs arrive thick and fast like a buzzsaw plugged into the national grid with early Exodus like ferocity. Ol's vocals are delivered with a manic glee backed by bass guitar bombast from Joel Graham and snarling snare work from Ben Carter. A mid paced mid section then heads off into warp speed guitar solos.
They unbelieveably play even faster throughout 'Gore' following the the crushing intro to make it a certified pit opener. Another devastating drum assault drives it kicking and screaming over the finish line after a metronomic pounded mid section and savage fretboard fury.
The majestic opening minute of 'Incarcerated' has a 'Seasons In The Abyss' scene setting vibe that's the precursor to laid back riffs and spoken word vocal until it muscles up into a gory grind before racing into a zip ride of intense riffing and hypnotic headbanging mid section to make it six snarling minutes of hate.
To put it simply, 'War Of Attrition' is a no frills bare knuckle bruising brawl of musical maul. Ol puts extra angst to his vocal and this anger is taken out on his guitar for some ridiculously over the top string bending histrionics with a vocal snippet of "I am remorseless, I am the pain, I am the hatred and the rage".
'Disorder' is a full on slammer that takes no prisoners as it stomps along like Godzilla having a bad day and the lyrics are bellowed out like a volatile drill sergeant.
'The Thing (1982)' has an earworm intro riff that is catchy as well as caustically raging. It's the fastest track here that sees it zoom along on a blink and you'll miss it feral flayer. A moshing mid section is a bonafide neck breaker but the punishing outro has to be heard to be believed.
With the title of 'Zombie Apocalypse' this song is not for the faint hearted as its blast beat driven belligerant assault is of the highest order with lurid lyrics of "Ripping through the earth, lust for blood and death, seeking human flesh".
A churning bass guitar intro to 'Control From Above' settles into mid paced thrash and mach speed metal as a Thor hammer blow mid section sees the heavens open with a deluge of strafing riffs.
All this pent up rage is unleashed for the title track for one last firestorm. This scalding scythe of viciousness is set alight by an industrial tinged intro as the band lock in tight for an ear melting dose of devilish proto doom, closing with a mantra of "Hell, hell, hell is unleashed".
Band links can be found here :- https://smarturl.it/HellUnleashed …..https://www.facebook.com/evileuk …..https://www.youtube.com/results?search_query=evile+band+ …..https://amazon.co.uk/Hell-Unleashed-Evile/dp/B08VY771YM/?tag=plane09-21
Hell Unleashed album track listing :-
Paralysed.
Gore.
Incarcerated.
War Of Attrition.
Disorder.
The Thing (1982).
Zombie Apocalypse.
Control From Above.
Hell Unleashed.
Evile band line up :-
Ol Drake – Lead Vocals/Lead Guitar.
Ben Carter – Drums.
Adam Smith – Rhythm Guitar/Backing Vocals.
Joel Graham – Bass Guitar.
An unrelenting full thrash metal assault!