Tonight's gig had an early start (normal for a Friday or saturday night at Rock city and many other venues these days), and with three bands on the bill then Oceans of Slumber were due on stage just 15 minutes after doors opened. It soon became clear that things were runnning late as the crew started carrying stuff in and putting it on stage just moments before their start time, and yes they were running late. The plus side of that is of course that more fans were in the venue before the start of their set (the downside being that Epica were now due to run right up to curfew rather than having some margin for error). There's a good turnout – it's not sold out (the balcony isn't open) but the place is busy and it shows that Epica's regular UK visits are paying dividents as they are growing steadily and are now too big for the Rescue Rooms.
Oceans of slumber kicked the night off with a good solid set. The Houston based band seemed to suffer from a fairly poor mix which I don't think helped them in trying to win over the crowd tonight. Cammie Gilbert has a great voice but the music just seemed to be falling slightly flat with the audience – there really wasn't much enthusiasm from the crowd. Oceans of slumber are a band that are well worth a listen, but I'm not sure they're a great fit with Epica and as a result while they definitely had some fans in the audience, many were less impressed.
Next came Myrkur. With flowers and leaves wrapped around the microphone stand, and her face having been painted she certainly has a striking appearance, but once the set started things got even more interesting. Musically they just failed to impress me at all – it felt fairly monotonous, and the vocals just seemed mismatched. Her light vocals made me think of the Elven music in Lord of the Rings, but with a metal band as backing rather than an orchestra. It's not what I was expecting from an artist described as black metal – in fact nothing about the set made me think "Black metal". Her live set really failed to impress me, and judging by the audience reaction I'm not sure she impressed many of them either. It's a shame as having watched some of her videos online, I really enjoyed them – it just didn't work in the live setting.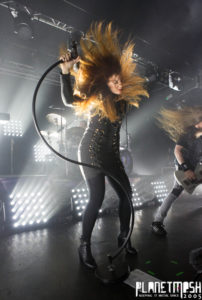 Finally it was time for Epica. They're a band I've seen plenty of times over the past decade and they never disappoint. They're all superb musicians and I love the songs, so that's a large part of it, but another important part is the fact they are clearly having a lot of fun on stage, even as they draw close to having played 1000 shows since they started. Keyboard player Coen Janssen is the clown of the band and has a keyboard on wheels, attached to a track so he can spin it around, wheel it around the upper part of the stage and generally have fun. He and Issac Delahaye at various times clown around together with one helping the other play their instrument, and all the fun and games comes while playing complex music perfectly. Simone Simons is the centre of attention for many as she sings and throws her long red hair around. She's got a truly beautiful voice and paired with Mark Jansen's growls it works so well with the music. Despite this being the first night of their UK tour, they look so polished – they're a hard working band and it shows in how well everything goes on stage – they're able to play perfectly and still have a lot of fun while doing that.
As always they've got a setlist that includes a good mix of old and new songs. It can't be easy for a band with 7 albums to come up with a setlist – everyone will have their own favourites, but I think tonight's setlist is an excellent one that will please most fans – certainly the fans tonight seemed to enjoy it.
It's a fantastic set but sadly it had to end (slightly after curfew – it's nice to see the venue not cutting a band off when they hit curfew with a song or two left). I look forward to seeing Epica again soon – one of the best live bands in the symphonic metal genre at the moment.
Check out the rest of our photos here..