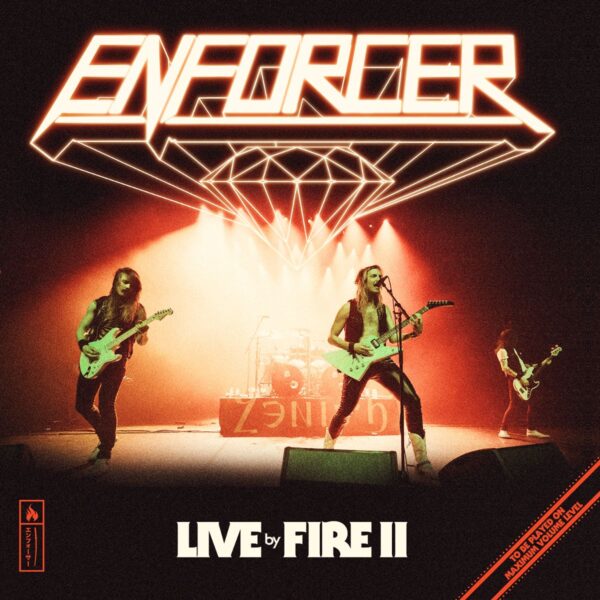 Even the more famous live albums are not 100% the real deal with parts added and/or deleted before they hit the shelves but Live By Fire II from Enforcer seems to be a warts and all performance from 2019 in Mexico City.
The South Americans sure do love their metal, point proven by their contributions throught this double album. Set opener 'Die For The Devil' sees the band take to the stage, fuelled by mighty crowd roars as they reply duly with heavy duty metal with a melodic twist, raging solos topped off by lung shredding lead vocals.
No pause for breath as rib rattling drums propel 'Searching For You' along, backed by incendiary riffs and molten guitar solos.
More crowd lunacy threaten to drown out the band during 'Undying Evil', a guitar heavy monster of multi time changes and twin lead overload.
A spoken word intro to 'From Beyond' adds menace to melodic heavy metal that sends the crowd into ecstacy, point proven by their mighty backing vocals in the midsection.
'Bells Of Hades'/'Death Rides This Night' join together for a lilting piano intro that fires up for some pit opening thrash metal over a seismic drum battery.
The metal bar is raised higher by 'Zenith Of The Black Sun' as its power metal pulverize is offset by bruising bass guitar dominated verses.
Lead vocalist Olaf Wilkstrand knows how to fire up a crowd as 'Live For The Night' is preceded by "Show us some violence Mexico City! Are you ready to give us some blood tonight? Start a fucking riot!" Warp speed thrash metal is the name of the game here.
"This song is gonna take you all to Hell and back" as 'Mesmerized By Fire' does that and more besides with skin flaying riffs.
The main riff of '1000 Years Of Darkness' lights the fuse for a full on metal chug, anthemic choruses and air guitars are mandatory for the twin lead terror.
'Guitar Solo' + 'City Lights Jam' is a blusey but heavy mental instrumental that kicks into life for a neck breaking outro.
'Scream Of The Savage' brings on the savagery as an instantly memorable main riff crushes over a thrilling thrash groove that gets even more insane for the bloody knuckled outro.
'Drum Solo'. A surefire thing in the 80's brought back to life here by a full on battering from Jonas Wilkstrand and the rabid crowd response proves his prowess.
'Run For Your Life' accelerates with no compromise and is another drum driven drag racer.
They hit us next with the breathtaking epic 'Take Me Out Of This Nightmare'. Seven minutes go way too fast from a banshee screamed intro as the crowd once again take command for the choruses. No prisoners are taken as their thrash metal rages even harder and faster with a midway twin lead guitar attack.
First encore comes from 'Destroyer', another song aptly titled as it juggernauts along like early Exodus.
Another lengthy piece comes from 'Katana', another seven minute wonder of thudding thrash. A laid back midsection sees them go down the gears to huge cheers until they thrash under pressure for a finger blistering outro.
Final number 'Midnight Vice' follows another crowd baiting rant from Olaf. "Mexico City! What a great fucking pleasure it's been to come back home and play some heavy metal. We have one more song here or are you tired and wanna go home to sleep right? You guys at the back love disco and stuff right? How about you guys in the front, do you want another song? You got the 'Midnight Vice"! Said song is my album highlight purely because of its early NWOBHM influences. A fitting end to an overwhelming listening experience.
Enforcer were formed in 2014 in Arvika, Sweden and the the album is currently released via Nuclear Blast Records.
Band links can be found here :- https://www.facebook.com/enforcerofficial ………..https://amazon.co.uk/Live-By-Fire-Enforcer/dp/B08SYHDJ2V/?tag=plane09-21 ……………..http://instagram.com/enforcerofficial
Live By Fire II album track listing :-
Die For The Devil.
Searching For You.
Undying Evil.
From Beyond.
Bells Of Hades + Death Rides This Night.
Zenith Of The Black Sun.
Live For The Night.
Mesmerized By Fire.
1000 Years Of Darkness.
Guitar Solo + City Lights Jam.
Scream Of The Savage.
Drum Solo.
Run For Your Life.
Take Me Out Of This Nightmare.
Destroyer.
Katana.
Midnight Vice.
Enforcer band line up :-
Olaf Wilkstrand – Lead Vocals/Guitar.
Jonas Wilkstrand – Drums/Piano/Keyboards.
Tobias Lindqvist – Bass Guitar.
Jonathan Nordwall – Guitar.
May this force always be with you!