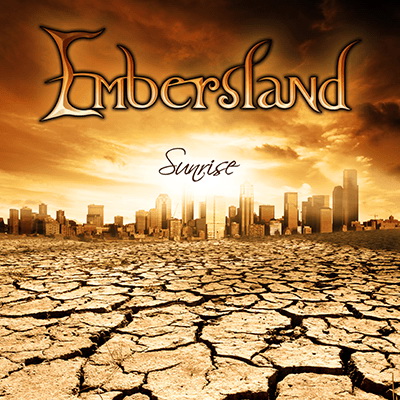 Embersland is a metal band from Barcelona, Spain.  The band formed in 2009, and during 2011 and 2012 recorded their debut album, Sunrise, which was finally released in May this year.  The band are fairly unusual in having two male vocalists.
Starting with the vocals there is quite a mix on the album.  You get single male clean vocals, dual male clean vocals, and growls.  At times the clean vocals sound typical for a metal album, but at times they have an almost classical sound, so there really is a huge mix vocally, but it works well.
Musically it varies too – ranging from heavy metal to more of a power metal sound with symphonic elements, with each song standing out from the others.  There's quite a bit of variation within the songs too – 'Sunrise' starts as a quiet melodic intro before the heavy guitars kick in and transform the song to a symphonic metal song, then later on the growling vocals take over and give the song yet another different feel.
With all this variety it would be easy to overdo it and to end up with an album that has a schizophrenic feel, but they've managed to tie them together well, so that while there are lots of differences between songs, there are also enough common elements to make them feel like they belong together.  It's an album that does grow on you the more you listen to it, and it's definitely well worth checking out.
Rating: 7.5/10
Track listing:
1. Why
2. In vain
3. Kidnapping
4. Fight for my dream
5. Memories
6. Sadness
7. When
8. It's not the way
9. Sunrise (part i)
Embersland are:
Will – Vocals
Xavi – Vocals & Guitars
Victor – Bass
Jimmy – Guitars
Luana – Keyboards
Damián – Drums & Percussion