Delain's new release, "Hunter's moon" was orignally envisaged as an EP, but grew to be a lot bigger. The EP part is the four new studio tracks, but what was then added to it is basically a full live album – ten live tracks. The live tracks were recorded at Utrecht's Tivoli Vredenburg venue on the short tour the band did with Nightwish's Marco Hietala as a special guest. So a live album and a studio EP in one – sounds good, but there's even more as there's a second disc with it, which is a DVD of the live material. So that's a pretty good release for something intended to keep fans going till the new studio album is ready to be released.
The band released a stunning video for the opening track, "Masters of destiny"…
It's certainly not the most catchy radio friendly song that they've released – this is a deeper kind of track, but it's a fantastic track that shows just how talented Delain are and one that makes me really look forward to the new album.
Of the new tracks, two of them were composed by the band's gutiarists – Merel bechtold wrote "Art kils" while Timo Somers wrote "The silence is mine".
The live material features several songs with Marco Hietala guesting on vocals. He was a guest on the band's first two albums, doing the male vocals, so it's great to have him doing those songs live with Delain.
It's a great release – a few new songs to keep fans excited for the next studio album, and a load of live songs plus a bonus DVD of the live material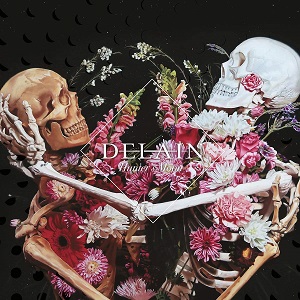 Track listing:
1. Masters of destiny
2. Hunter's moon
3. The silence is mine
4. Art kills
5. Hands of gold (live)
6. Danse Macabre (live)
7. Scarlet (live)
8. Your body is a battleground (live)
9. Nothing left (live)
10. Control the storm (live)
11. Sing to me (live)
12. Not enough (live)
13. Scandal (live)
14. The Gathering (live)
It's a great release - a few new songs to keep fans excited for the next studio album, and a load of live songs plus a bonus DVD of the live material