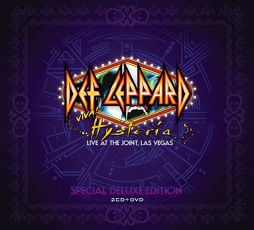 In 1993 Def Leppard released a Four track live E.P, Live: In the Clubs, in Your Face; and that was that.
We had to wait another 28 years before anything official surfaced from the Leppard camp, that appeared in 2011 and was off course 'Mirrorball'.
Now only two years later, and they are back with another live album, 'Viva! Hysteria'.
"Viva! Hysteria" is a 2CD/1 DVD set that was recorded earlier this year during the band's 11 day residency at 'The Joint' in the Hard Rock Hotel and Casino in Las Vegas. As the title suggests, this release is centered on the band's complete performance of their iconic 1987 album, "Hysteria". This album alone contained seven hit singles including six Top 10's, it has sold more than 20 million copies to make it one of the biggest selling albums of all time and assured Def Leppard of legendary status. Q magazine readers voted it as the 98th Greatest Album of All Time in 1998, while in 2004, the album was ranked at number 472 on Rolling Stone's list of the 500 Greatest Albums of All Time.
There are two parts to this dvd, the first is a complete live performance of "Hysteria" and it is flawless, a lot of time and effort went into the stage set, everything was well thought out and was designed for this run of shows only. The visual effect this has on the viewer is breathtaking, and all in glorious HD.
As the band open up with 'woman' the sound in 5.1 is just incredible, Rick Allen's electronic drum kit and Rick Savage's throbbing bass really get the room shaking, while the twin guitar attack of Phil Collen and Vivian Campbell blast from every speaker, thanks to the carefully mixed guitar parts. Joe Elliott's voice isn't quite what it was 25 years ago, but would you expect it to be? He's still got a great vocal range, mix that with the choruses and the sound is HUGE.
The second part of the Bluray is given over to the support band that opened up for them, the world's greatest Def Leppard cover band, "Ded Flatbird".
"Ded Flatbird" is in fact Def Leppard, who play tracks from their early albums and EPs through to the last single "undeafeted" . "Good Morning Freedom" is a track that I hadn't expected to see on here, as it has only previously appeared as the B side to "Hello America" back in 1980; "Wasted" and "Rock Brigade" from their 1980 debut album, "On Through the Night; seven tracks from their 1981 album "High 'n' Dry"; also included are "Stagefright", "Slang", and "Action".
"Viva! Hysteria" is an incredible DVD and should be high on everybody's Christmas shopping list.
Available on the following formats — 2CD+DVD digipak, Blu-ray, DVD and digital album downloads — the full track listings are as follows:
CD1
01. Women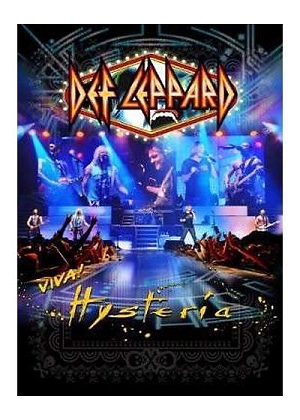 02. Rocket
03. Animal
04. Love Bites
05. Pour Some Sugar On Me
06. Armageddon It
07. Gods Of War
08. Don't Shoot Shotgun
09. Run Riot
10. Hysteria
11. Excitable
12. Love And Affection
13. Rock Of Ages *
14. Photograph *
* Extra non-"Hysteria" tracks
CD2
DED FLATBIRD – Night 1
01. Good Morning Freedom
02. Wasted
03. Stagefright
04. Mirror Mirror (Look Into My Eyes)
05. Action Not Words
06. Rock Brigade
07. Undefeated
08. Promises
DED FLATBIRD – Night 2
01. On Through The Night
02. Slang
03. Let It Go
04. Another Hit And Run
05. High 'N' Dry (Saturday Night)
06. Bringin' On The Heartbreak
07. Switch 625
The DVD tracklisting is as above but also includes bonus content of the acoustic medley: Where Does Love Go When It Dies / Now / When Love & Hate Collide / Have You Ever Needed Someone So Bad / Two Steps Behind.
DVD / Blu Ray menu:
– Viva Hysteria
– DED FLATBIRD Night 1
– DED FLATBIRD Night 2
– Acoustic Set
– Photo Montage