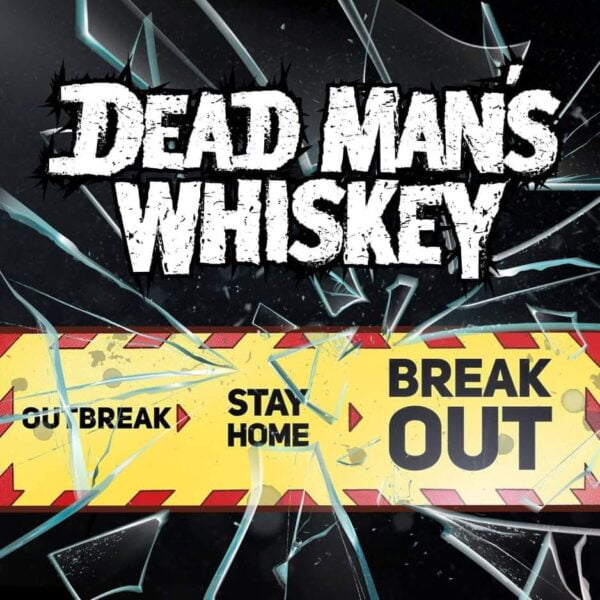 Only two months after releasing their 'Breakout' single, London based five piece band Dead Man's Whiskey follow it up with a five track EP of the same name. Due for release on Friday, October 21st 2021, the Breakout EP makes giant strides point proven by opener 'Sleep When I'm Dead'.
A teasingly long intro of wiry guitar lines have huge riffs gathering momentum behind them until it explodes into ballbusting boogie of headbanging grooves, a raunchily rasped lead vocal all pinned down by some hefty Godzilla stomped drum pounding.
'I Am Here' has a solid granite main riff backed by some tasty talkbox effects that sets the scene for a lead vocal that lives up to the songs title but a manic wah-wah guitar solo midway steals the spotlight.
'Breakout', the first single taken from the EP is full of feelgood vibes throughout this crunching song with lyrics we can relate to, for example "Monday to Friday that's my daily grind and I know it's just the same for all mankind. Got my fingers itching I want to get away but those rules they keep telling me that I've gotta stay. I'm not a number, I'm not a desk. I'm a thorn in your palm with a tie around my neck." And full on band delivered choruses are "Breakout, five days and it takes it's toll, waiting all week for my rock and roll. Breakout, I know I sold my soul, take it all, take it all, take it all." Aptly enough the video is filmed in a prison!
'Never Ever' is the second and recently released single from the EP is another hairy headbanger of all consuming riffs from Billy Kons and Elliott D'Alvarez, big bass guitar blustre from James Titley, drum bombast from Charlie Gray and the acidic lead vocals of Nico Rogers that hit the spot perfectly!
This highly impressive EP ends with 'Make You Proud' (piano version), a remastered track taken from their remastered debut album Under The Gun – Reloaded. After all the previous testosterone fuelled songs this one is a thing of beauty, a spine tingling ballad of epic proportions to melt the coldest of hearts mainly from 100% total conviction by Nico. It finishes on a whisper, leaving you wanting more.
Pre-sale links to the Breakout EP and band info are here :- https://deadmanswhiskey.co.uk/merch I https://deadmanswhiskey.co.uk/ I https://www.facebook.com/DeadMansWhiskey/ I https://twitter.com/deadmanswhiskey I https://www.instagram.com/deadmanswhiskey/ I https://www.youtube.com/channel/UCwxVAN2j-LvQ7PZek5xL_AA I https://open.spotify.com/artist/78GPTwHpBkuef6qShIYYE8
Breakout EP track listing :-
Sleep When I'm Dead.
I Am Here.
Breakout.
Never Ever.
Make You Proud (piano version).
Dead Man's Whiskey band line up :-
Nico Rogers – Lead Vocals.
Billy Kons – Lead Guitar.
Elliott D'Alvarez – Rhythm Guitar.
James Titley – Bass Guitar.
Charlie Gray – Drums.
Five finger whiskey measures, one for each song will get you rocking out to Breakout, the new EP from Dead Man's Whiskey.