Danny Vaughn Announces an Amazing Scheme to Help Fans Get to His 'Vaughnsday On The Road' Tour Dates
Danny Vaughn is an artist who's earned the affection and loyalty of his many fans, as frontman of melodic rockers Tyketto, for his own solo work (particularly his acclaimed album 'Myths, Legends & Lies') and for his joint acoustic project with Dan Reed, Snake Oil & Harmony.
Danny will be undertaking his first tour for three years: an 11-date UK acoustic solo tour, which starts in Edinburgh on 24th November and will run until 9th December. Named 'Vaughnsday On The Road' by his fans, this solo tour will replace the Snake Oil & Harmony Hurricane Riders tour originally scheduled.
As Danny explains, though — in a special video announcement on his Facebook page and on YouTube — venues are still facing problems, having been hit by COVID, lockdowns and cancellations and postponements. This means that pre-booked ticket sales can be crucial in keeping the doors open. What's more, the cost-of-living rises are hitting everyone: music lovers, the venues themselves and more.
Mindful of these problems, Danny's extraordinary fan community has come up with creative, practical ways to help each other make those bookings and get to the gigs.
Danny explains the issues and solutions in his special video message. Julie Bootland & Ross Macdonald — have created a unique and special database that will help people wanting to get to the gigs. The database enables fans to help each other out, to pool resources and efforts in some amazing ways, showing the kindness, generosity and ingenuity of the fan community they make up.
Direct message Julie or Ross — who maintain the contact list — on Facebook. They can help put fans in touch with each other. If, for example, someone wants to get to a gig in Newcastle but is facing trouble with travel arrangements, costs or transport, they may be able to liaise with someone else travelling there. Similarly, they may be able to arrange to share accommodation and/or accommodation costs.
What's more, some fans, both in America and the U.K. are even contributing money to buy tickets for other fans who're not able to afford them themselves.
Danny is deeply touched and inspired by the qualities found in this community: initiative, kindness, generosity, mutual support and much more.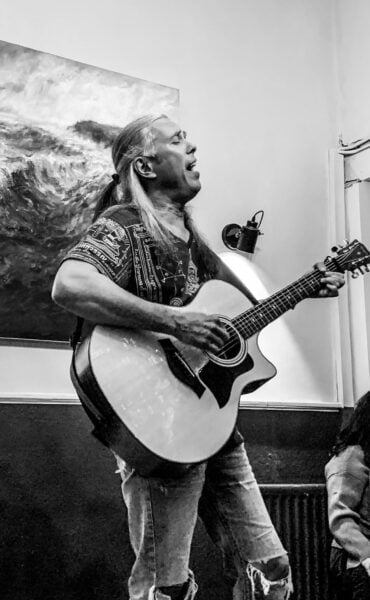 Check out Danny's special video message on his Facebook page and on YouTube for further details, and if anyone needs a helping hand getting to 'Vaughnsday On The Road', know that that hand is there.
At each venue, Danny will thus be playing requests, meaning each show will be completely different and a unique experience. Danny's live shows are known for their vibrancy, intimacy, and Danny telling tales and anecdotes — as well as for their vibe and musical excellence.
Danny will be playing songs from various facets of his career, including Tyketto, Snake Oil & Harmony's 'Hurricane Riders', and of course his acclaimed solo album 'Myths, Legends & Lies'.
See below (and Dannyvaughn.com) for full details of the tour (including dates and venues) and book early to experience Danny Vaughn in his natural habitat: performing live, and expect atmosphere and crowd participation aplenty! As Americana UK said of Danny's 2019 UK gig at The Black Heart, London: "With over 35 years of recording and touring already banked, he brings a tide of deep support with him as the audience participation levels soar on the more anthemic songs."
Check out Danny's video message here:
"Ticket links are posted at www.dannyvaughn.com."
The 'Vaughnsday On The Road' tour dates are as follows:
Edinburgh: Bannermans Thurs, Nov. 24
Glasgow:                             The Attic                                             Fri, Nov. 25
Ballymena, N.I.                   The Diamond Rock Club                    Sat, Nov. 26
Blackpool: The Waterloo Music Bar Sun, Nov 27
Stoke On Trent: Eleven Music Venue Thurs, Dec 1
Crumlin: The Patriot Fri, Dec 2
Newcastle: The Cluny Sat, Dec 3
London: The Grace Sun, Dec 4
Bilston: The Robin 2 Tues, Dec 6
Sheffield: Local Authority@ The Corporation Thurs, Dec 8
Bradford:                             Nightrain                                            Fri, Dec 9