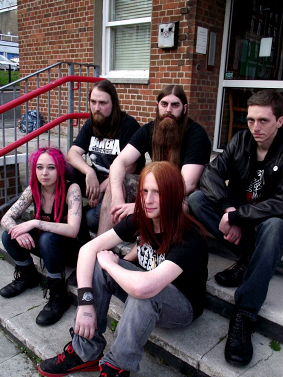 Craniation are set to play the New Blood Stage at this years Bloodstock festival on Friday the 9th August.
We catch up with the band to find out more about them, the festival, their thoughts and what you lucky Bloodstock go-er's will see!
Can you give the readers a quick introduction to the band.
Millie Crampton – Vocals
Olly Gregory – Guitar
Tim Hearn – Guitar
Alex Manghan – Bass
George 'Fest' Williamson – Drums
We decided to form Craniation in late 2011. Each of us had been in bands in the Bristol underground metal circuit previously, but we wanted to get involved in something substantially more serious and take a professional approach to our music. With those interests in mind, the band just clicked together and we managed to land our first gig with Wormrot in June last year.
How would you describe your sound?
We are a unique and crushing blend of Death and Thrash Metal
Why did you want to become part of the New Blood Stage line up?
Bloodstock is hands down the festival at the fore-front of giving underground bands a chance to share their music with a wider audience. We are so grateful to be given the opportunity to be part of such an awesome line up!
What was your initial reaction when you found out you were playing on the New Blood Stage?
The only way to remedy our excitement was to drink ourselves into a peaceful slumber back at the studio.
What can the audience expect from you at the festival.
A seriously intense and energetic stage show that will melt your faces off.
What has been the bands biggest achievement so far?
Probably the tours we did with Seprevation late last year and Syn:drom earlier this year. They were both DIY, so to get such a promising response from them was a real motivational boost for us.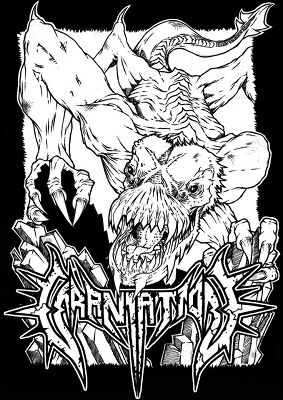 Have you ever been to Bloodstock before? If so when and what did you enjoy most about it?
Millie attended for the first time last year. The rest of us are Bloodstock virgins so we can't wait to get there and drink ourselves into oblivion for 4 days!
What is your opinion of the Bloodstock line-up?
Bloodstock has so much to offer in terms of diversity. There are so many awesome bands.
What are you looking forward to most at Bloodstock.
The copious amounts of beer and metal!
Can you sum up Bloodstock in one sentence?
Beer, Metal, Friends, Antics and stuff.
Any message you wish to pass on to the PM readers?
We're going to be releasing our EP later this year and then probably an album off the back of that, so keep your eyes and ears peeled!
Thank you for taking the time out to complete this interview, we are looking forward to seeing you at Bloodstock \m/ \m/
Links:
https://www.facebook.com/Craniation
http://craniation.bandcamp.com/
http://craniation.bigcartel.com/
http://www.youtube.com/user/Craniation
http://www.reverbnation.com/craniation