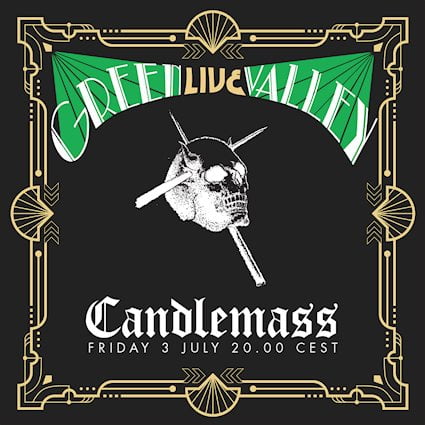 Not even Covid -19 could halt the doom metal of Candlemass as they live streamed their only gig of 2020, a lockdown show on Friday, July 3rd that resulted in this magnificent double album titled Green Valley (Live) recently released by Peaceville Records. Formed in Stockholm 1984 they pioneered the genre known as doom metal with their colossal debut Epicus Doomicus Metallicus, four tracks of which are on Green Valley (Live).
Album opener 'Well Of Souls' is a warning of what's to follow as it's a scintillating six minutes of claustrophobic heaviness with the force of a gravitational pull. Multi riffed time changes resonate and touches of melody add a shaft of light to the black. The lead vocals from Johan Langqvist captivate as he delivers as if preaching a sermon.
Headbanging heaven comes from 'Dark Reflections' right from the first groovy riffs. Inventive drum patterns from Jan Lindh give it an extra edge as guitar solos from Mats Bjorkman and Lars Johansson raise the metal bar even higher.
The hypnotic rhythms of 'Mirror Mirror' pull you in for a pulverizing pound of earthshaking horror that gets heavier when the drums become more prominent in the mix.
'Ancient Dreams' is short but still brutally bombastic as an escalating main riff heralds a bass guitar heavy outro from Leif Edling.
Listening to 'Astorolus' is like a walking through a thick mire that captures the mood of what the band dish out here, smashing out a claustrophobic song of spoken word and howled out passages. A wah-wah guitar solo steals the spotlight mid-way until it switches back to the doom onslaught.
'Bewitched' casts a sandstorm spell of stoner rock. It's a nerve numbing monster of magnitude with lyrics delivered akin to an evil glee.
They go through the gears as 'Dark Are The Veils Of Death' batters us into submission with an unrelenting grind that briefly stops for a full on stomp, raging guitar solos and it ends on a lazy lumber.
'Under The Oak', first track played from Epicus Doomicus Metallicus see them crank it up to eleven to dish out an aftershock of epic proportions, point proven by a slowed down heart wrenching acoustic mid-section as it closes on a tortuous Thor hammer blow drum assault.
'Doom Jam' does by what the title says. A keyboard and bass guitar intro sees it ebb and flow into massive power chords. Keys become more prominent to give it a prog edge.
'A Sorcerers Pledge' is an epic to end all epics. Guitar chords are like a tolling bell that ring over a pleading lead vocal that careers into kick drum driven heavy metal. A bruising bass and drum segment heads off into facemelting guitar solos as a stirring "Whoa oh oh" passage precedes a turbocharged outro.
If 'Solitude' was to be compared to an animal it would have to be a huge woolly mammoth bearing down on you. The thickness of the grooves here are totally mind blowing and the drum blows are like nails being hammered into your coffin.
This superhuman album closes with 'Demons Gate (Soundcheck)'. It's a curious finishing touch as if the album has not already flattened us they now pin us to the wall with this behemoth!
it's available on the following formats, a 2-disc CD+DVD, double gatefold vinyl and a digital format.
Band links are here :- http://www.candlemass.se/ …..https://www.facebook.com/candlemass …..https://www.instagram.com/candlemassdoom …..https://amazon.co.uk/Green-Valley-Live-Candlemass/dp/B08X7RKXFD/?tag=plane09-21
Green Valley (Live) album track listing :-
Well Of Souls.
Dark Reflections.
Mirror Mirror.
Ancient Dreams.
Astorolus.
Bewitched.
Dark Are The Veils Of Death.
Under The Oak.
Doom Jam.
A Sorcerers Pledge.
Solitude.
(Bonus Track) Demon's Gate (Soundcheck).
Candlemass band line up :-
Johan Langqvist – Lead Vocals.
Mats Bjorkman – Guitar.
Lars Johansson – Guitar.
Leif Edling – Bass Guitar.
Jan Lindh – Drums.
A Doom laden 70 minutes of aural and visual bombast!