Call Of The Wild Festival 2022 Announcement
The anticipation is already brimming to boiling point with organisers of Call of the Wild Festival having to wait a full three years to bring back what was hailed as the Best New Rock Festival when it burst onto the circuit during its first year in 2019.
With the soul-destroying challenges of rescheduling the event four times now firmly brushed under the carpet, organisers wish to first and foremost thank everyone for their patience and support.
Festival booker Raz White explains "There was solidarity & support within the industry like never before. Agents, Bands, Managers, Promoters… so many wonderful people that also recognise our passion and willingness to overcome any and all obstacles, to one day host our second Call of the Wild Festival."
And, it is, without doubt, one hell of a line-up.
As with all rescheduled events, the challenges of securing the exact same line-up time & time again are impossible.
However, organisers are delighted to confirm that Motörhead legend PHIL CAMPBELL & THE BASTARD SONS will be headlining the Kilmister stage on Sunday evening. Anyone who recently witnessed them headline Steelhouse and Bloodstock will know what an absolutely amazing show to expect. The band released their latest awesome album 'We're TheBastards' last November via Nuclear Blast, having recorded it during the lockdown period in Wales.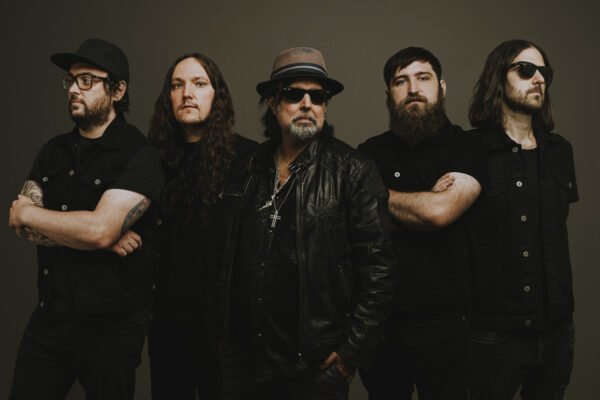 Festival organiser Dave O Hara states "It's been my dream to work with this band and with it being our Kilmister stage, named as a tribute to the great man, Lemmy, which is also sponsored by Motörhead Beer, it doesn't get any better than that"
Another exciting addition is UK AOR titans MIDNITE CITY who released their third album 'Itch You Can't Scratch' in June, via Roulette Media Records. MIDNITE CITY is confirmed to headline the Southall Lawless stage on Sunday evening.
Call of the Wild Festival is proud to now be introducing a third stage which is sponsored by the phenomenal Dead Skull Coffee Co. With THE HERETIC ORDER set to have their official new album (on Massacre Records) launched at the festival's Dead Skull Stage on Friday evening, it promises to be a caffeine-infused must for their fans.
Headlining the Dead Skull Stage on Saturday are self-proclaimed Geordie rockers EDENTHORN, who have built up a strong following up and down the country with their formidable live performances. The band and organisers are excited for all of their fans to be able to see them in such a prominent position on the bill which is important to developing the headline bands of the future.
Organisers have explained on many occasions how important it is to give newer bands big opportunities; they believe it is part of developing fresh talent, and in this instance, they are proud to shine the spotlight on local Lincoln band KAYLYDE, their E.P 'Shadows' was released in March 2019 with a great response from fans. KAYLYDE will headline the Dead Skull Stage on Sunday evening.
The Dead Skull Stage is completed with;
AVARUS
TORQUED
REGULUS
SCRUFFY BEAR
SABOTEURS
SHAPE OF WATER
ANTEES
KILONOVA
THE VELVET QUEENS.
Coffee lovers will also be pleased to learn that Dead Skull Coffee will be launching their 3rd blend, aptly named, Call of the Wild Third Stage.
Further acts that complete this incredible four day bill are;
THE CRUEL INTENTIONS
BOOTYARD BANDITS
DOOMSDAY OUTLAW
GIN ANNIE
ANCHOR LANE
RXPTRS
FIREROAD
TWISTER
DIG LAZARUS
THESE WICKED RIVERS
SISTER SHOTGUN
HELL'S DITCH
DAXX & ROXANE
SHE BURNS RED
CAPULUS
NEW DEVICE
THE BIG DIRTY
SWEET TEAZE
RAVENBREED
SAINTS OF SIN
WICKED STONE
TOM KILNER.
A Four-day ticket pass is only £130 and that includes camping pitch & parking. Glamping upgrades are available. There is also a Campervan & Motorcycle area. With the car park only a few hundred yards from the camping area, ticket holders will not have to endure a mile hike back to their tents.
Additional VIP places will also be released. These will be extremely limited and tend to go very quickly. A VIP ticket allows early entry and access to the VIP welcome party with exclusive performances from Ey Up! Maiden, AllStarJamSesh & Sisters of Spin DJ set featuring Tina Culbertson & Caz Parker, plus a VIP lounge area with a free Motörhead Beer bar from 11am – 1pm each day and 10% off official Call Of The Wild merchandise.
MMH Radio will kindly host a signing tent over the weekend.
Upstaged are also immensely pleased to be able to confirm that Call of the Wild Festival 2022 is being supported using public funding by Arts Council England
Like many other events, festivals, venues and anyone working in our industry, Call of the Wild Festival has been blighted in what has been a truly difficult 18 months. Having to postpone 2021 was devastating given it was so close to the lifting of Covid restrictions. The news that funding has come from the Supporting Grassroots Live Music Project Grant is not only heartwarming and welcomed, it is also the biggest compliment to be recognised for doing exactly that, it's what we do on a daily basis.
So today, we'd like to thank Arts Council England but we also want to extend our undying gratitude and thanks to our loyal #wolfpack for your continued support – we've said it before, but without you, we are an empty field.
#supportinggrassrootslivemusic
Is this the best Grassroots rock festival in the UK? We certainly think so. Why not come and join the Wolfpack, you'll be barking mad not to.
Call Of The Wild Festival is held at the stunning location of Lincolnshire Showground, Grange de Lings, Lincoln, on the weekend of the 19th May – 22 May 2022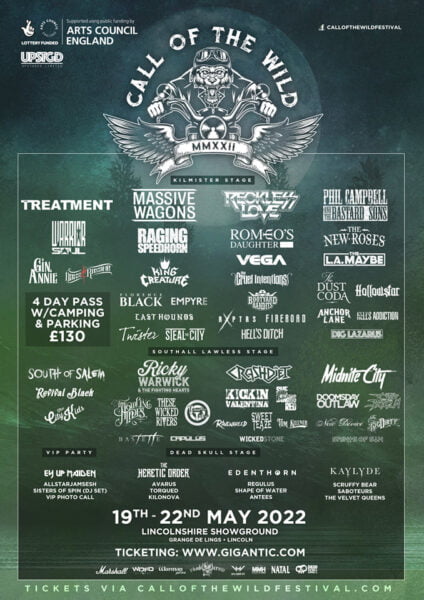 Tickets available here:https://www.gigantic.com/call-of-the-wild-festival-tickets