Swedish band bullet will release a live album in July. Called "Live" (simple and to the point), it's a double album featuring 18 songs recorded at a show in Sweden.
If you're not familiar with Bullet, they're a no-frills Swedish metal band. There's no cleverly crafted image, just a bunch of old-school metalheads in jeans, tshirts and leather who tour Europe in a battered vintage bus. It's great heavy metal with a NWOBHM influence. The twin guitar driven sound is nice and heavy and the vocals are somewhere between Accept and Britny Fox – the higher pitch reminds me of Britny Fox in many ways but it's got a harder metal feel that you associate with Accept's Mark Tornillo. In short they're a damn good band.
The band's last studio album, "Dust to gold" came out in April 2018 and went down very well with reviewers and fans, so it's no surprise that this live album includes five tracks from that album.
Bullet are great on their studio albums but with their live shows they're even better, something that comes from having toured relentlessly for years including supporting ACDC in front of 55,000 fans and played major festivals such as Rock am ring, Wacken, Sweden rock, Graspop Rock hard and more.
It's a great live album – the power and energy of a live show comes across well and with some great songs then it's a great album to listen to (preferably nice and loud).
"Live" will be released on 5th July 2019 via SPV/Steamhammer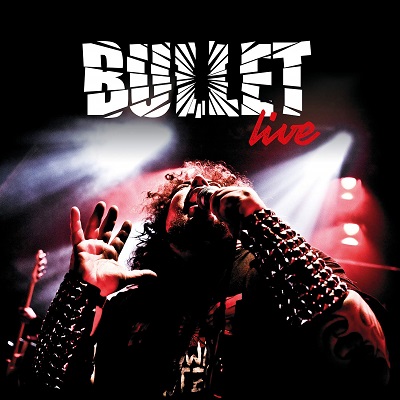 Track listing:
CD1:
1. Uprising
2. Storm of blades
3. Riding high
4. Turn it up loud
5. Dusk til dawn
6. Dust to gold
7. Rambling man
8. Bang your head
9. Hammer down
CD2:
1. Speed and attack
2. Ain't enough
3. Rolling home
4. Heading for the top
5. Stay wild
6. Fuel the fire
7. Highway love
8. The rebels return
9. Bite the bullet