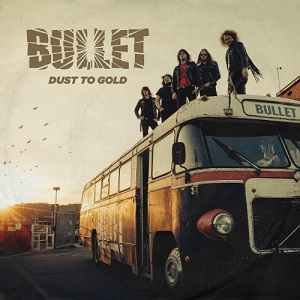 Bullet are a heavy metal band from Växjö in Sweden. They released their debut album "Heading for the top" in 2006, and have followed this with 4 more albums, with the last being "Storm of blades" in 2014, now after a gap of four years they're releasing their sixth album – Dust to gold.
If you've never listened to Bullet before, then if you're a fan of bands such as ACDC, Accept and other classic metal bands you're likely to find Bullet very much to your taste.
The album cover sees the band standing on top of an old bus with "Bullet" as the destination as well as painted on the side – that's their tour bus that they've used for years, and I have to say it works well as an album cover, and it's nice to see a vintage vehicle like that rather than the usual vans or tour buses you see these days.
Check out the video for "Ain't enough" – the first single to be released from the album.
One thing you'll see from the video is that there's no trendy stylish image to appeal to some sub-genre of metal, these guys are old-school metalheads, so Denim, Leather, and a Dio T-shirt are the order of the day. That pretty much sums up Bullet – good straightforward metal with no frills to distract.
It's great heavy metal with a NWOBHM influence. The twin guitar driven sound is nice and heavy. The vocals are somewhere between Accept and Britny Fox – the higher pitch reminds me of Britny Fox in many ways but it's still got that harder metal feel that you associate with Accept's Mark Tornillo.
A great album – well worth checking out.
"Dust to gold" will be released on 20th April 2018
Track listing:
1. Speed and attack
2. Ain't enough
3. Rogue soldier
4. Fuel the fire
5. One more round
6. Highway love
7. Wildfire
8. Screams in the night
9. Forever rise
10. The prophecy
11. Hollow grounds
12. Dust to gold
A great album - well worth checking out