'Hive Mentality' is Brick By Brick's 6th studio album spanning fifteen years. Based out of New York, these guys are brutal!!! Ray Mazzola's fierce vocal range leaves an imprint that this guy is not to be messed with. Brick By Brick are 100% pure New York hardcore. Mean, angry and straight to the point.
From the minute opening track 'Hive Mentality' greets us with it's early Metallica-style intro you know that this is going to be one Rollercoaster ride. Pulsating comes to mind. As it does with 'Bad Sign'. 'Keep away, you've been warned', screams Mazzola. Brilliantly executed.
Brick By Brick have lots of similarities. I can resemble them to Metallica, Anthrax, Exodus, BillyBio, Pantera. But even with comparisons, they still hold their own identity. Mazzola's vocal range is something else and it makes this band unique. 'Toe To Toe' boasts great speed changes, as does 'Battleground', which reminds me of 'Dethroned Emperor' by Celtic Frost.
'Bar Is Open' gives us an insight into latest recruit Andy Parsons capabilities on bass. He has a beautiful sound, and the harmonising he demonstrates gives it even more depth. This is a galloping whirlwind of a track. Non stop. Mazzola again in the thick of things. 'Never To Wake' and 'In The Ruin' are fierce, unforgiving and pounding. The latter being one of my favourites on this album.
The surprising inclusion of a cover of Skid Row's 'Slave To The Grind' and Motorhead's 'Iron Fist' (I don't agree with cover tracks on albums), doesn't really do a great deal for me to be honest. But everyone is entitled to an opinion and I'm sure a lot of people will disagree with me. I believe Brick By Brick are too good to do covers on their albums. Their music is good enough to hold it's own any day of the week.
This is a fantastic album which will be getting played a lot more I can assure you.
Track Listing: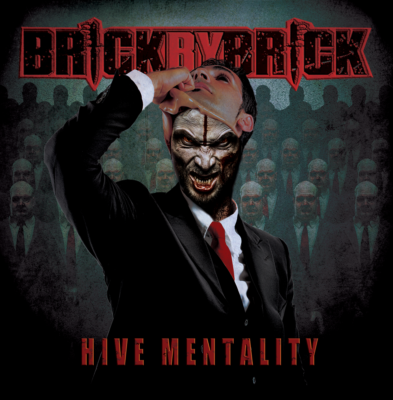 1 – Hive Mentality
2 – Bad Sign
3 – Toe To Toe
4 – Battleground
5 – Bar Is Open
6 – Never To Wake
7 – In The Ruin
8 – Slave To The Grind
9 – Iron Fist
Line-up:
Ray Mazzola – Vocals / Mike Valente – Guitars / Andy Parsons – Bass / James Muller – Drums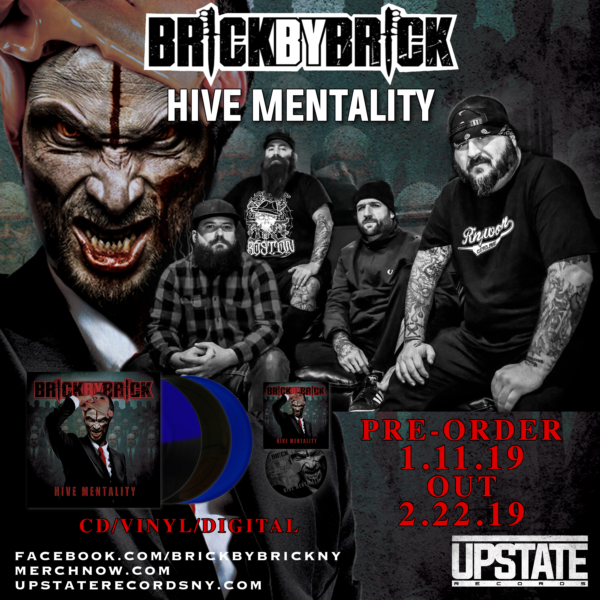 Release date 22/02/19. Fantastic album from Brick By Brick. Pulsating throughout.