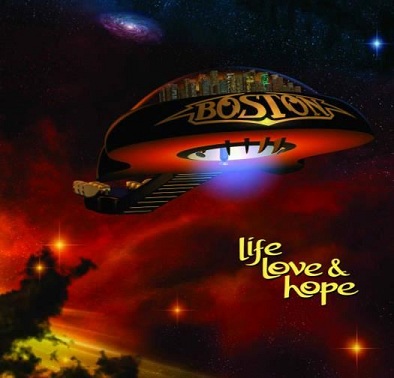 Tom Scholz has made no secret that this sixth release was intended to emulate the classic Boston sound, even using the same amps, instruments, and analog equipment he's worked with for the past 35 years.
The easily recognizable Boston sound is best remembered in tracks like "More Than a Feeling", "Peace of Mind", "Foreplay/Long Time", "Rock and Roll Band", "Smokin'", "Don't Look Back" and 1986's "Amanda." taken from the 'Third Stage' album.
I say best remembered, as this latest Boston release fails to hit the target, for a start it contains seven lead vocalists including the late Brad Delp (on three tracks), Tommy DeCarlo, David Victor, as well as Tom's first ever lead vocal on a Boston track, "Love Got Away."
Two of the Delp songs, "You Gave Up On Love (2.0)" and "Someone (2.0)" are just remixed versions of tracks from the 2002 'Corporate America' release.
There is off course nothing wrong with using different vocalists, Slash did it on his first solo record, which had guest vocalist on every track and worked really well, this however doesn't.
The early Boston sound, even if Scholz has used all the old equipment is just not here. "Heaven And Earth" the opening track does have a great stab at it, and nearly succeeds, however the 2nd track 'Didn't Mean to Fall in Love' even in its re-mastered form falls woefully short of what we know Boston can do of old.
"Someone (2.0)" and 'You Gave Up on Love (2.0)' have both been rerecorded/rearranged yet sadly there is very little, if any improvement in them.
If 'Foreplay' is a lesson in how to write and play an instrumental, then "Last Day At School" is the complete opposite, I cannot believe the great Tom Scholtz wrote this, it is truly awful.
'Someday' is about as near to a classic Boston track as you are going to get on this album, but it isn't enough to stop that sinking feeling you get with the rest of the album.
Tom seems to throw everything he has got at the newly rerecorded "You Gave Up On Love (2.0)", which has Kimberley Dahme ,Tommy Decarlo and Scholz himself on vocals, but it doesn't work at all, with Kimberley Dahme sounding very out-of-place, making the track sound labored in parts.
The rest of the album sees the collection of guest singers turn in adequate if uninspiring performances, the songs lacking in any real depth, the vocalists singing without any real passion.
I took no pleasure in writing this, as I love Boston, but after the uninspiring releases of "walk On" and "Corporate America" I had hoped, that after taking 10 years to write and record this opus, that it would reignite the classic Boston sound we all loved on the first three records, ( while accepting that "Third Stage" was a natural progression of Boston as a band ) it doesn't, it left me feeling empty, and without any enthusiasm for this release.
A friend of mine remarked "What if had it been released as a Tom Scholtz solo album", then I would have given it a different score, but as this stands as a Boston album, then I'm afraid I can only manage a 3/10.
Track Listing                                                                                                                    [amazonmp3 asin="B00G2KV92U"]
01. Heaven on Earth
02. Didn't Mean to Fall in Love
03. Last Day of School
04. Sail Away
05. Life Love and Hope
06. If You Were in Love
07. Someday
08. Love Got Away
09. Someone (2.0)
10. You Gave Up on Love (2.0)
11. The Way You Look Tonight
Available on December 3 via Frontiers Records