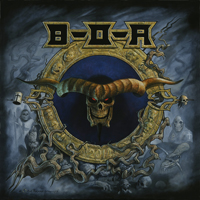 As one of the 'new bloods' on the PM team, the editorial board took it upon themselves to throw this Bloodstock debutante in at the deep end by sending me to cover the stage of the same name – presenting the daunting task of covering some 13 bands each day, all working on extremely tight deadlines which would test both artists and reviewer alike…  What follows is an overview of what stood out for me over the three days…
On the Friday morning, a fairly decent crowd of early birds, many nursing hangovers, are waiting for the first band to hit the stage – a daunting task which faces  GOAT LEAF (https://www.facebook.com/goatleaf), who grab the occasion by the balls, with energetic frontman Jonny Town quickly bantering the crowd and wakening them up with their southern doom-influenced style, which those of us who were there early really enjoyed.
The next band to make a lasting impression are BRUTAI (https://www.facebook.com/brutai), with their old school trash – but with a difference: their blend of Metallica, System Of A Down and Linkin Park is a mix which should not work, but they make it do so and their relaxed no-effort-required attitude make them a great live band.  OAKHAART (https://www.facebook.com/oakhaart), with their Anthrax-influenced thrash whip the crowd into another mosh pit – but they split the crowd with the younger ones loving them but the older crowd don't seem too impressed.
ALONE WITH WOLVES  (https://www.facebook.com/alonewithwolves) bring with them something completely different:  their funky, upbeat metal groove immediately wins the crowd and it's clear to see that both the band and crowd are having great fun.  This is an extremely tight band and their passionate frontman can certainly interact brilliantly with the audience:  to me this  band, have it all and so far are the band of the day. The next band to stand out from the day's many similarities is DOG TIRED (https://www.facebook.com/dogtiredmetal):  playing their mix of  thrash meets heavy metal they have the crowd where they want them.  Vocalist Chris Thomson is a very aggressive growler – but not a frontman as it's guitarist Luke James who incites the crowd's responses.
Playing to an almost empty tent, Norway's ANGERMAN (https://www.facebook.com/angermanband) make their trip worthwhile with their in-your-face heavy metal and the small crowd love them:  the twin guitars are so tight and frontman Michael bounces through the set, which is reminencent of Avenged Sevenfold.  JACKKNIFE SEIZURE's (https://www.facebook.com/jackknifeseizure)  heavily melodic Metallica-influenced set closes the stage for the day:  frontman Gerry has a great range and mixes it up with his growler inserts perfectly, and the atmosphere is more that of a pub gig as the singer has great fun and flashes his belly to close the set and go off to party!
BACK DOWN OR DIE (https://www.facebook.com/Backdownordie) open day two and immediately beat down any hangovers that this early crowd might have into submission with their in- your-face Anthrax/Pantera-influenced thrash, as enigmatic frontman Rytch – the man with the best dreads on show all weekend – bounces and headbangs all over the stage as if it's a late night gig not 10.30 am.  A band I really enjoyed and would like to see again.  THE THREAT's (https://www.facebook.com/TheThreatUK) combination of death metal and hardcore mixed with the groove of Faith No More works surprisingly well, and their positive vibe proves to be one of the more  unique sounds of the weekend.
Next up, NWOBHM-influenced SYNAPTIK (https://www.facebook.com/SYNAPTIKMETAL) wow the crowd with their tight twin guitars and great double kick drums.  With the vocal range of frontman John Knight similar to that of Steelheart's Miljenko Matijevic, this band really know their stuff and have an amazing stage presence that means most people in the tent can't take their eyes off them.  With the compere asking the large crowd who they wanna see, RESIN (https://www.facebook.com/resinonline) burst onto the stage with high kicks from singer James Botha, and these NWOBHM-influenced men take no prisoners with their relentless attack on the crowd's senses and have them eating out of their hands. With two outstanding guitarists, who can literally make their instruments sing, and a frontman akin to Toby Jepson, they can do no wrong as far as the crowd are concerned:  Botha is an old fashion frontman who banters and interacts perfectly with the crowd, this is a band which definitely stand out as one of this stage's highlights of the weekend.
METAPRISM (https://www.facebook.com/Metaprism) are a death metal band with a difference:  two front people – one male, one female – who mix growler with the sweet girl next door vocals, which results in Mordor meets Evanescence over a double kick and heavy bass. Canadians PHANTOM, with a sound very like Raven and a stage approach akin to Anvil, are another crowd pleaser, while, by contrast,  Slovenia's THE CANYON OBSERVER's (https://www.facebook.com/TheCanyonObserver) doomy death metal fails to pique the interest of those sheltering from the approaching mizzle outside – unlike death metallers WARCRAB (https://www.facebook.com/WarCrab666), who retain the attention of the fullish tent with their combination of perfectly blended four guitars.  Unfortunately, CACODAEMONIC (https://www.facebook.com/cacodaemonic), with their static stage presence, and ALL CONSUMED (https://www.facebook.com/AllConsumed) with their lack of crowd interaction, are a disappointing anticlimax to the day's events.
After a night of heavy rain a rather damp crowd fill the tent for the start of Sunday's proceedings, with coloured poncho's and wellie boots replacing the black sea that has been here for the previous two days.  BYZANTIUM NECKBEARD waken up the hungover crowd with their heavy southern deathcore doom set – and also win the compere's award for "second best band name of the weekend" (they're just edged out by the previous day's Canyon Observer – on the grounds that "that has so many connotations!").   KING GOAT (https://www.facebook.com/kinggoatbri) have the crowd going nuts with their with their energetic Black Sabbath meets Mastodon heavy metal – and vocalist  Trim has such an amazing range to his vocals.
UNFORESEEN PROPHECY (https://www.facebook.com/unforeseenprophecy), with their hardcore/death mix and aggressive frontman bring the people wandering about outside flooding into the tent – partially attracted, no doubt, by their enthusiasm and sexy female guitarist Charis, whose harmony vocals really add to their style .
However, the prize for cheekiest feckers of the weekend goes to Irish M2TM winners PSYKOSIS, who ride in on a wave of free beer that they had brewed, bottled and labelled themselves.  They easily draw the largest crowd of the weekend in the New Blood tent and do not disappoint, with 30 minutes of relentless carefree thrash metal which are delivered with fun and fervour. 'Beach Season' and 'Driller Killer' are highlights in front of a mental circle pit. These guys have to be back next year – with a massive stage upgrade (and a bigger carryout) of course!
Previously known as Snakebite, STONEGHOST (https://www.facebook.com/STONEGHOSTROCKS) have been known by their new name since 2013.  The London based four-piece delivered a five song set that could be felt from the front barrier, not just heard.  Fronted by the furious but dry witted Jason Smith, they wasted no time proving their talent as opener 'Faceless Ghost' with it's early Suicidal Tendencies style delivery, bolstered by some furious double bass drumming by Cris Finniss.  The swirling main riff of  'Raynardine' and rhythms brought to mind Pantera's 'Domination' with yet more powerful drums.  Announced as a new song, 'Laplace' was built on a lazy stoner rock riff with a shredding Tom Morello-like solo from Andrew Matthews.  'MOAB' was all breakneck hardcore with Jason throwing himself around the New Blood stage and their all too brief set closed with the marching drum intro of 'Third Degree' as it moved into a groove akin to the heavier side of Mastodon.  Stoneghost are another one to watch out for.
Obviously, with so much going on at Bloodstock, and so many brilliant bands spread across the weekend, it is absolutely impossible to cover every act on every stage, and sacrifices sometimes have to made.  The above is intended to be a snapshot of the weekend's events on the New Blood stage, and to provide an overview of the many fine bands who appeared in the tent.  Our apologies to those bands we were not able to review: hopefully we will catch up with you somewhere sometime soon…
Photographs by Anthony May.  Photograph of Psykosis courtesy of Down The Barrel / OverDrive.  Additional rerviewing by Dennis Jarman.