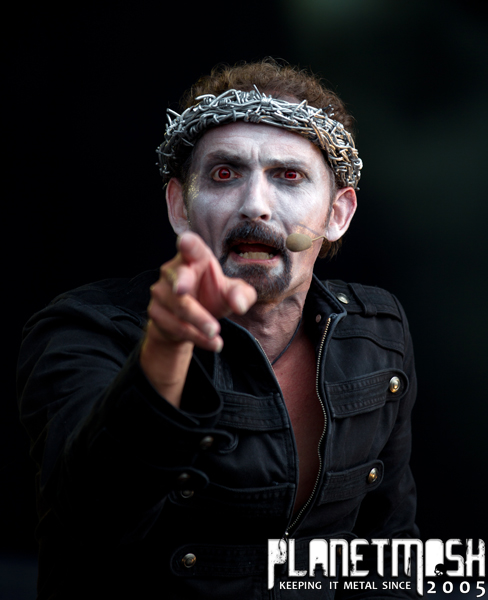 Rather than start my day with a full on dose of metal, I pleasantly started it with a slice of medieval full contact battling. In the past the Viking battling had been a little on the soft side, wielding wooden swords and could get boring pretty quickly. Medieval battling on the other hand is violent goodness complete with metal swords. Just what you need to start your Saturday. If knights flying through metal barriers doesn't float your boat then you should probably consider a different festival because that was crammed with entertaining awesomeness!
Since the medieval knights were so captivating, I found it hard to break away to catch Derbyshire's Hell on the main stage. David Bower is one of the most entertaining and captivating frontmen in metal. Every single song was delivered with passion and zealotic frenzy. This was a performance filled with true metal, horror, props and scorching pyrotechnics. One of the highlights from their set was Bower's return to the stage as a giant hellish faun. Standing six feet taller than his onstage apostles, he began to spin his spark spitting golden trident, assuming the appearance of a  Faustian Catherine Wheel. They closed the set with "Plague and Fyre" and "Save Us From Those Who Would Save Us" and left the crowd in no doubt that Hell truly, is on Earth.
Next up on the main stage was Kataklysm. The band pulled a great crowd that responded well to the performance, especially during "As I Slither" where the crowd were invited to surf to the front throughout the song. A 45 minute set was rapidly coming to an end but not without fan favourite "Crippled and Broken" and ending the magnificent set with "In Shadows and Dust". An enthralling performance by band that, in my opinion, deserved a longer set time.
It's been three years since french metallers Gojira played the main stage of Bloodstock Open Air, and heading to our shores once again, they took to the stage and were welcomed by a large crowd of chanting fans. They kicked into 'Explosia' all hell broke lose, so much so that they had to stop whilst the front barrier gets re-fixed for safety. After a joke about having to leave their stage stuff due to the planes losing it, the band get back to business as the crowd stand strong and continue to chanting their name. Highlights from their set included old favourites such as "Flying Whales" & "Backbone" which was accompanied by Lamb of God's, Randy Blythe. As he took to the stage the crowd exploded into a wave of flying bodies and circle pits, capturing anyone close by. The band closed on the title track from their new album 'L'enfant Sauvage' which only left the crowd wanting more. Gojira are not a band to miss live, it's essentially impossible to overstate how utterly flawless they were. Here's to hoping we see them back on our shores soon!
The next band that I was eagerly awaiting after much hype from fellow moshers was Sabaton. Before now I'd never had the chance to checkout the Swedish power metal outfit and really didn't know what to expect, especially after "The Final Countdown" was played in its entirety as a pre-introduction.
After a Europe intro and a Sabaton intro, the band entered the stage, shortly followed by some technical difficulties leaving frontman Joakim Brodén to entertain the crowd single-handedly. Due to a nearby war memorial bands were asked not to swear during their performances, which was proving to be rather difficult. For a little fun Joakim awarded the first person to point out when he swore with a can of beer. After much jibba jabba, trying not to swear and borrowing of fan's "six-pack" jackets, the technical difficulties were resolved and the show was back on track.
Although I feel the band had been a little over hyped and the expectations I had because of this weren't delivered, the band played well, held a huge audience and kept the interaction fun and interesting, giving first time festival goers souvenirs including Joakim's sunglasses and wristband.
Unfortunately for Power Quest they had an inconvenient clash with Sabaton, leaving their audience a little sparse at the beginning of their set. A real shame considering this is their last tour before disbanding. The band gave it their all proving themselves for one of the last times and possibly the last ever time on the hallowed grounds of Bloodstock. Even with smiles on their faces and mighty attempts to keep the stage prescience fun, I couldn't help but sense the sadness beneath the public front. Once the Sabaton set had finished the Sophie tent soon filled up, giving Power Quest the send off they deserved.
Tobias Sammet's Avantasia took the mainstage by storm. Every tour they bring a host of special guests on the road and this year's debut performance at Bloodstock was no exception. Michael Kiske (Unisonic, Helloween), Ronnie Atkins (Pretty Maids), Eric Martin (Mr. Big), Tamworth's Bob Catley (Magnum) and the wonderful Amanda Somerville (Trillium). They played a melodic power metal set that featured songs from new album "The Mystery Of Time" and a selection of tracks from their previous five albums. "The Story Ain't Over", with Catley, was so catchy and stayed in my head long after the show ended. Martin assumed the duties of Klaus Meine on an excellent "Dying For An Angel", but seeing the legend that is Michael Kiske back on an English festival stage was a privilege. They closed with the hand waving "Farewell" and "Sign of the Cross" which gave every vocalist involved the opportunity to bask one last time in the spotlight. They ended their world tour at Bloodstock and the entire show was fun from start to finish. I'm sure this was not the last we've seen of Avantasia.
While most of the Bloodstock crowd were watching the Operatic pomp of Avantasia on the main stage a packed out tent containing the Sophie Lancaster stage hosted headliners Last In Line,a tribute to Ronnie James Dio. When they walked out onstage to headline I wondered how many realised that this was his band from 1983/87 with Andrew Freeman doing an excellent job on vocals for this evening.  crowd was treated to eleven Dio songs by a backing band of Vinnie Appice on drums,Claude Schnell on keyboards,Jimmy Bain on bass guitar and Vivian Campbell on lead guitar. Opening to deafening cheers with "Stand Up And Shout", they finished the emotional audience off with a thundering "We Rock". In fact, as the houselights came up after set closer "Rainbow In The Dark" a lot of the crowd (including myself) had left the tent only to quickly return when the band came back out for said encore. Classic after classic was embraced by a jubilant crowd as after the opener we had "Straight Through The Heart", "King Of Rock And Roll" ,(a very emotional) "Dont' Talk To Strangers", "Evil Eyes", "Holy Diver", "I Speed At Night", "The Last In Line" and "Invisible". With their performance, Last in Line paid a very fitting tribute to the little man with the big voice.
Tonight's headliners were Lamb of God, anticipated by many, especially since the legal battles that prevented them from touring for a while.
For the second time today on the main stage there were technical difficulties during a band's performance, first for Sabaton and then for headlining act Lamb of God. Randy's concern for the crowd's safety was commendable as the event staff worked to repair a broken barrier in front of the stage. Due to this technical complication the audience were left with an awkward and quite boring silence resulting in quite a few people dispersing from the crowd. Eventually the problem was rectified, the stage barrier was back in place and the band continued where they left off, reminiscing about this first ever show in the UK in London with the mighty Slayer. For this occasion they played "Ruin" from their 2003 album "As Palaces Burn".
The band gave out a dynamic performance with frontman Randy Blythe animated throughout, displaying his appreciation for the fans and sharing stories between songs. The overall set hit the spot apart from a few too many prolonged silences which consequently resulted in the outskirts of the crowd thinning down through these moments.
Mega-thanks to Planetmosh's Ella McClary and Dennis Jarman for their contributions on the Gojira and Last In Line reviews respectively.