BLOODSTOCK is full steam ahead planning for August with five more bands announced! 
Landing a Ronnie James Dio main stage slot on Sunday is THERAPY?  The Northern Irish rockers released their 'Greatest Hits (2020 Versions)' album last year via Marshall Records and are currently dropping some of their classic albums on vinyl.  Pre-order those over here.  Maybe, in homage to the headliner, they'll bust out their cover of Judas Priest's 'Breaking The Law' for us at Catton Park as they did at Hellfest in 2014.

Rising metalcore squad, BLEED FROM WITHIN pick up a slot on Sunday's main stage.  BLOODSTOCKers may have caught the Scottish band in their 'virtual support slot' on the recent Lamb Of God Livestream.  You can check out their performance of 'Into Nothing', taken from the 2020s much-lauded 'Fracture' album and their 'Viral Hysteria' live set here. 

Opening Thursday's Sophie stage and setting the bar high for the day's proceedings will be Bristol blues-punk noiseniks, MOTHER VULTURE.  Their frenetic live show shouldn't be missed, infusing the chaos and anarchic spirit of The Stooges and MC5 with their modern-day twist.  Check out their party-starting video for 'Tell Me' here. 

Also grabbing a Thursday slot on the Sophie stage are Canterbury's progressive doomsters and New Blood stage alumni, FAMYNE.  The band's name was inspired by Opeth's track 'Famine' (from the prog metal kings', 'Heritage' album), check out the influences on 'Faustus', the lead single is taken from their 2018 debut album here.  FAMYNE's second studio album is set for release in the coming months, so stay tuned for possible new music at Catton Park!

Last, but not least, the original 'party slam defenders' PARTY CANNON is set for a Sophie stage slot on Saturday.  The band are hard at work on a new album (check out the updates on their Facebook page) and recently restocked their merch store, so head to https://partycannon.bigcartel.com/ for all your PARTY CANNON needs, including a ridiculous brightly coloured sew-on patch for your battle jacket! 

With four overseas bands pulling out last week – BLACK DAHLIA MURDER, CATTLE DECAPITATION, NEKROGOBLIKON and TOXIC HOLOCAUST – be assured that BLOODSTOCK is committed to finding additional bands to fill any gaps on the bill, in the best effort to deliver the most awesome festival weekend you've ever had!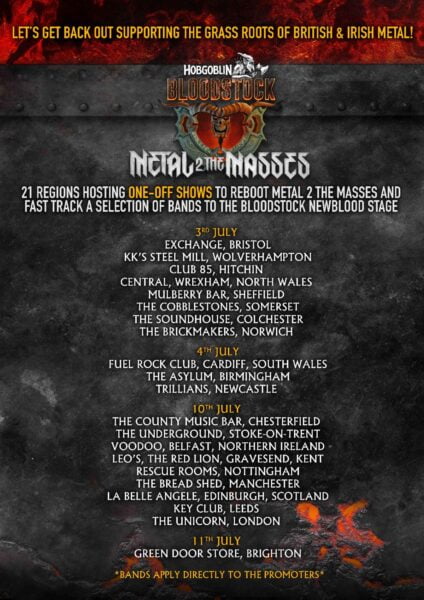 A rebooted version of the METAL 2 THE MASSES scheme is underway, with 21 regions hosting one-off events to fast track a selection of local bands to the BLOODSTOCK New Blood Stage, as BLOODSTOCK continues to champion grassroots metal, year in, year out. 

Check out the participating locations below and if you'd like to enter your band into the mix, contact local promoters for details here.

SAT 3RD JULY BRISTOL – Exchange WOLVERHAMPTON – KK's Steel Mill HITCHIN – Club 85 WREXHAM/NORTH WALES – Central SHEFFIELD – Mulberry Bar BRIDGEWATER/SOMERSET – The Cobblestones COLCHESTER – The Soundhouse NORWICH – The Brickmakers

4TH JULY CARDIFF/SOUTH WALES – Fuel Rock ClubNEWCASTLE UPON TYNE – Trillians BIRMINGHAM – The Asylum
10TH JULY CHESTERFIELD – The County Music Bar STOKE-ON-TRENT – The Underground BELFAST/NORTHERN IRELAND – Voodoo GRAVESEND/KENT – Leo's at The Red Lion NOTTINGHAM – Rescue Rooms MANCHESTER – The Bread Shed EDINBURGH/SCOTLAND – La Belle Angele LEEDS – Key club – LONDON – The Unicorn, Camden

11TH JULY BRIGHTON – Green Door Store

If you've yet to make your travel plans, BIG GREEN COACH are back as our Official Coach Partner.  There are 33 pick-up points around the country, you can choose to arrive Wednesday or Thursday and they'll get you home on Monday. In fact, you can mosh till you drop and sleep all the way back.
Get dropped right inside the festival gates, no one gets you closer!  Deposit scheme available and new Flexi Option means your seat is 100% protected.
Pick up points include ABERDEEN, BIRKENHEAD, BRADFORD, BOURNEMOUTH, BRISTOL, CAMBRIDGE, CARDIFF, CARLISLE, CHESTER, DUNDEE, EDINBURGH, EXETER, GLASGOW, GLOUCESTER, LANCASTER, LEEDS, LIVERPOOL, LONDON (Victoria Coach Station), MANCHESTER, MIDDLESBROUGH, NEWCASTLE-UPON-TYNE, NEWPORT, NORWICH, OXFORD, PERTH, PLYMOUTH, PRESTON, SHEFFIELD, SOUTHAMPTON, SUNDERLAND, SWANSEA, TAUNTON and WORCESTER.
Check out all info at https://www.biggreencoach.co.uk/events/bloodstock-festival-tickets-coach-travel. 

BLOODSTOCK's 2021 main stage headliners are DEVIN TOWNSEND (Friday), KREATOR (Saturday), and JUDAS PRIEST (Sunday).  The festival will also feature sets from DIMMU BORGIR, SKINDRED, PARADISE LOST, BURY TOMORROW, DIAMOND HEAD, JINJER, VIO-LENCE, SAXON, THE WILDHEARTS, GLORYHAMMER, DARK TRANQUILLITY, PHIL CAMPBELL & THE BASTARD SONS, BLOODYWOOD, MEMORIAM, RAMAGE INC., GREEN LUNG, CONJURER, ORANGE GOBLIN, THE NIGHT FLIGHT ORCHESTRA, RAGING SPEEDHORN, UNLEASH THE ARCHERS, SYLOSIS, WINTERFYLLETH, HACKTIVIST, THE CRAWLING, RAISED BY OWLS, ACID REIGN, SVALBARD, SOEN, BLASPHEMER, PIST, SHARKS IN YOUR MOUTH, SEIDRBLOT, NOCTEM, BLOODSHOT DAWN, & EVILE and many more. 

Yet more bands performing across the long weekend are still to be announced.

Standard weekend tickets for the extended, now, 5-day event in 2021 remain under a temporary price freeze at £145 (+ booking fees). In addition, child tickets and parking tickets for the 2021's event are available now at the ticket store, as well as a limited number of day tickets.
VIP and campervan tickets for 2021 are sold out. 

Grab your BLOODSTOCK merch here, including lockdown t-shirts, face masks, & hoodies. BLOODSTOCK 2021 takes place at Catton Park, Derbyshire from 11th-15th August 2021.

For more info, click to www.bloodstock.uk.com.