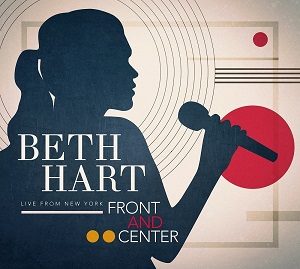 In March last year, Beth Hart performed a special intimate show at the Iridium jazz club in New York – a venue that only holds less than 200 people, so far smaller than Beth's usual shows. The show wasfilmed and featured on the Season 8 premiere episode of Public Television's critically acclaimed concert series, Front and Center, and is being released as a CD/DVD.
'Live From New York – Front And Center' will be released as a 2-disc DVD/CD set, mixed in 5.1 stereo, featuring never before seen bonus material, including an exclusive interview with Hart. The audio from the performance will also be sold separately as a digital release.
It's thirteen years since Beth's last solo live record, Live at Paradiso (she has done a more recent live album with Joe Bonamassa though), and in that time, she's released new albums and grown significantly in popularity, so a new live album was long overdue.
Beth Hart is a performer who constantly changes her setlist – when she tours it's unlikely any two shows will have the same setlist and I've seen her change her mind and add something in mid-set, so this release suffers from the problem of being recorded at one show, and more to the point, at an intimate gig. Why is that an issue? Well, the setlist looks to have been tailored to lean to the quieter more intimate songs, so we don't get her cover of "Nutbush city limits" for example, a song that always goes down well at her live shows. Don't get me wrong – I love this release, but when you've got a singer with a voice as powerful as Beth Hart's then it just feels wrong for that power not to be fully utilised. There are a couple of more lively songs, but overall this album is like listening to a heavy metal band at half volume – it just feels a bit muted. Hopefully Beth Hart will follow this release up soon with a live album biased toward the louder and heavier songs she does.
"Front and centre, Live in New York" will be released on 13th April 2018
Track Listing
CD
01 – Let's Get Together
02 – Baddest Blues
03 – Jazz Man
04 – Delicious Surprise
05 – Broken And Ugly
06 – St. Teresa
07 – Isolation
08 – Tell Her You Belong To Me
09 – Fat Man
10 – Love Gangster
11 – Leave The Light On
12 – As Long As I Have A Song
DVD
01 – Let's Get Together
02 – Baddest Blues
03 – Jazz Man
04 – Delicious Surprise
05 – St. Teresa
06 – Tell Her You Belong To Me
07 – Fat Man
08 – Leave The Light On
09 – Can't Let Go
10 – As Long As I Have A Song
A great release - a bit softer and quieter than I'd have liked but whatever she sings, Beth Hart never fails to impress