Beast in Black was formed in 2015 by Anton Kabanen – guitarist, songwriter and founding member of Battle Beast. In many ways he's continued with what he was doing in Battle beast – writing catchy power metal songs with some pop influences. I saw Beast in black live for the first time last year supporting Nightwish in Paris and was impressed by how good a reaction they got from the crowd – this is a band that really does know how to put on a great show. Their debut album (Berserker) has been out for two years now and it's now time for the second album – From Hell with love.
Check out the video for the single "Die by the blade"…
With "Sweet true lies", the opening seconds sound more like a pop song, then those guitars kick in and it's clear this is a metal song, then you get to the chorus and it's got a bit of a pop feel back again. Check out the video …
"Oceandeep" is a soft acoustic ballad and is a real change of pace compared to the rest of the album.
The songs are all really catchy and infectious but there's plenty of power and heaviness too. It's a great fun power metal album that's well worth a listen. There's nothing groundbreakingly new or original, but that doesn't matter – it's just good fun catchy power metal that's very easy to enjoy.
"From hell with love" will be released on 8th February 2019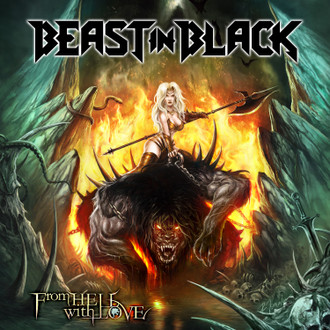 Track listing:
1. Cry out for a hero
2. From Hell with love
3. Sweet true lies
4. Repentless
5. Die by the blade
6. Oceandeep
7. Unlimited sin
8. True believer
9. This is war
10. Heart of steel
11. No surrender
it's just good fun catchy power metal that's very easy to enjoy