'Stand Back' There's A New Girl In Town, Bastette unveil New Animated Video 'Stand Back'
Bastette – Ferocious Egyptian goddess in the form of a Lioness and…… A Powerhouse Rock // Pop act hailing from Blackburn, fronted by the Lioness herself Caroline Eve Kenyon. Bastette was formed in early 2019 and is the brainchild of singer/songwriter Caroline, accompanied by her full-time band. Bastette delivers modern alternative Rock and draws inspiration from the likes of Halestorm and The Pretty Reckless. Caroline has a powerful vocal reminiscent of Florence and The Machine and delivers her music with swagger and panache.
Bastette's Journey although cut short this year due to COVID has not stopped from them progressing, writing and playing as many socially distanced shows as they can weather that be Caroline and her guitar or the full band, there is no stopping Bastette as they take to the studio later this month with Dave Draper (The Wildhearts, Jazmin Bean) to lay down a brand new track for the upcoming EP.
Stand Back is a song that draws from Caroline's personal experience's of betrayal and hurt. Here's what Caroline has to say about the song. " Stand back is about finding strength and power in the darkest betrayal, it is about people close to me trying to hurt me by taking away what is most important to me. Truth always prevails and these people are no longer in my life, out of this experience Stand Back was born,  Its jungle beat,  punky guitars and soaring vocals make you want to move, it's upbeat and powerful.. so turn the volume up and just let it all out"
Stand Back will be available from all platforms on Friday 16th October 2020
 You can watch the animated video here – 
Bastette truly is a fresh, fierce and colourful blast of fresh air, swagger, high heels and a voice so powerful it will leave you breathless and hankering for more. If you are one of the lucky few to grab a ticket for this weekend then you can catch Bastette perform a full LIVE set supporting Massive Wagons at The Waterloo in Blackpool this weekend on both Friday and Saturday.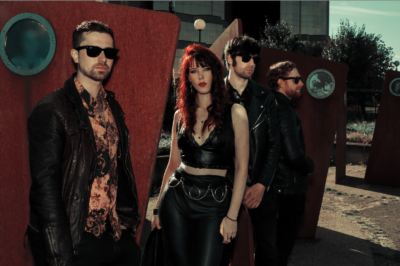 Caroline Eve Kenyon – Singer // Songwriter
Eoin Kelly – Guitar
Paddy Duffy –  Bass
Rob Hirst –  Drums
UK Tour Dates
2020
Friday       9th Oct The Waterloo, Blackpool – Supporting Massive Wagons
Saturday 10th Oct The Waterloo, Blackpool – Supporting Massive Wagons
2021
Saturday 27th March.     The Boulevard, Wigan
Thursday 15th April         The Waterloo, Blackpool – Supporting Wendy James
Saturday 1st May         Heretic Festival,  Sheffield Corporation
Saturday  15th May         Massive Weekender, The Waterloo Blackpool
Friday 21st May  Call Of The Wild Festival, Lincolnshire Showground
Sunday 30th May         Darwen  Live, Darwen
Saturday 4th July   SOS Festival,  Prestwich
Useful Links
Website: https://www.bastette.co.uk/  / Facebook: https://www.facebook.com/Bastette/
YouTube: https://www.youtube.com/c/BastetteMusic/featured  / Instagram:https://www.instagram.com/bastetteuk/
Spotify: https://spoti.fi/2SCUipx