Since their beginnings in Dereham, Norfolk 2010, Bad Touch have consistently released impressive music and that work ethic sees them on another high with their soon to be released fourth studio album Kiss The Sky via Marshall Records on June 19th 2020.
Available on white vinyl, CD, or digital download it's made up of a whopping thirteen tracks which kept my attention from beginning to end. They hit hard from the off as 'Come A Little Closer' is all bombastic boogie riffing pinned down by snappy snare work, slinky slide guitar work midway, topped by the unmistakable howls by Stevie Westwood. Latest single 'I Get High' is a joyously bass guitar heavy hoedown as the angelic choruses arrive early. A midway earworm guitar solo heralds an outro of full on delivered choruses.
'Let Go' is all laid back gritty blues as once again the choruses dazzle and touches of piano enthrall. The main riff to 'Strut' goes for the throat, backed up by a put up or shut up commanding vocal. A moment of calm sees them ease of the ire until it explodes into life with keyboard backed swagger. Being of a certain age, I wondered if 'I Got The Music In Me' was a cover of the Kiki Dee classic. It certainly is and they give it the Bad Touch treatment without straying too far away from the nuances of the original.
It's taken almost halfway to get to the first ballad as they break our hearts with 'Can You Save Me?' It's another tearjerker to their catalogue of them as it's utterly compelling. 'Kiss The Sky' takes us back to the heaviness as the riffs toughen up, bob and weave through the effervescent choruses, ending on an air guitar inducing finale. 'See You Again', another poignant ballad sees the heart worn on sleeve vocals pour out over swathes of acoustic guitar, piano and orchestral strings. One last gasp comes from a melancholy guitar solo.
'Before I Die' is a short but sweet foot tapper with some serious string bending during the outro solo. Smooth grooves and a mesmerizing weave around the lock tight rhythm section in 'Read All About It' and the soul drenched choruses make it my album highlight. 'Too Much Of A Good Thing' is all feel good country and western vibes, especially in the ecstatic choruses. The gentle verses in 'Sun And The Moon' hold their own amongst the heavy rock passages that will keep the headbangers happy.
Final track 'Something About Your Kiss' is a strong end to this magnum opus of an album. A simple hypnotic drum beat is the base for a spine tingling, almost ethereal first half of heart wrenching vocals until it bursts into life for an adrenaline rush climax! A pre-order link can be found by clicking on the orange More Details box.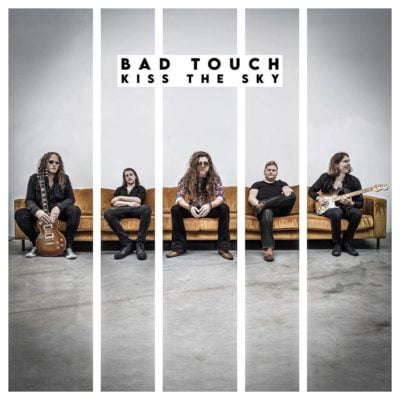 Kiss The Sky track listing :-
Come A Little Closer.
I Get High.
Let Go.
Strut.
I Got The Music In Me.
Can You Save Me?
Kiss The Sky.
See You Again.
Before I Die.
Read All About It.
Too Much Of A Good Thing.
Sun And The Moon.
Something About Your Kiss.
Bad Touch band line up :-
Stevie Westwood – Lead vocals.
Michael Bailey – Bass guitar.
George Drewry – Drums.
Rob Glendinning – Guitar.
Daniel 'seeks' Seekings – Guitar/vocals
Not just kissing the sky, Bad Touch embrace the Earth!