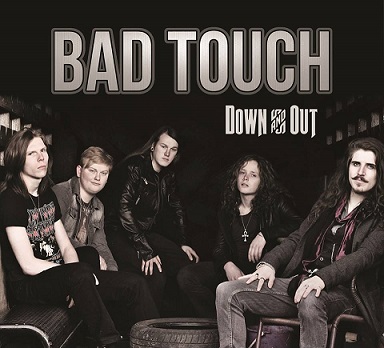 Bad Touch are an hard rock band from Dereham in Norfolk , who formed in 2009, the band consist off Stevie Sparrows on Vocals, Rob G on Lead Guitar, Daniel Seekings on Guitar, Michael Bailey on Bass and George Drewry on Drums.
Bad Touch's first recordings at Leeders Farm in 2011 were released in a 1000 limited edition EP 'Born to Please' – which has now sold out.
Career highlights so far include winning the Exposure Music Award 2012 for Best Live Act, as well as performing at the O2 Academy Islington, Hard Rock Hell 2012, The Underworld, the legendary 100 Club, Gig in the Park and the Cambridge Rock Festival.
What you may not know about this great band is that they won the Marshall Ultimate Band Contest in November and came away with a spot at next year's Download Festival, an endorsement with Marshall Amplification and they even had Rob G winning best guitarist.
'Down and Out' is the first full album from this up and coming band, and kicks off in fine style with "Down" an old school rock driven song, the guitar parts in this are just sublime, it certainly shows off Rob's guitar playing.
By the time you reach the 4th track, Dr Hearkbreak, you know Bad Touch are not going to stray too far from this writing style, think off a cross between the Quireboys and the Answer, and you won't be too far out. In fact singer Stevie sounds like a cross between the two.
"Poison in a pretty dress" is a great sing a long track with a great chorus and some serious funky bass lines going on.
"Mirror man" sees the band go a bit more heavy, a bit more hard rock, should be a great live song.
"Lying and losin", see the band go up a tempo, the rhythm section really driving this track along, Rob doesn't even have a real solo in this, just a driving riff.
'Time rolls on' slows everything down, for a great ballad, some very nice acoustic guitar add a great counter to the solo Stevie plays on this.
I can't pick out a single bad track on this, the quality on this release runs deep, though lead mainly by Rob's guitar, the rhythm section make enough racket not to be outdone, and it's been mixed and produced very well. Overall this is a very strong release, with enough variety to make this a must buy.
Tracklist
01.Down
02.Too Late
03.Lock N Load
04.Dr Heartbreak
05.One Last Chance
06.Set The Night On Fire
07.To All Our Lies.
08.Poison In A Pretty Dress
09.Mirror Man
10.Lying And Losin'
11.Another Little Broken Promise
12.Time Rolls On.
12.Outta The Dark