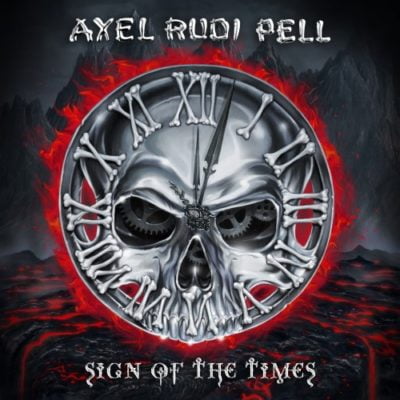 Already this is a contender for my album of 2020! Looking at the name I expected it to be peppered with a shitload of guitar solos and no songs but I could not be more wrong!
Axel Rudi Pell will release Sign Of The Times via SPV/Steamhammer on May 8th 2020, his 18th studio album and it is a masterclass of heavy metal. Hats off to producer Tommy Geiger as it sounds as though you are listening to it through a stack of Marshalls. Album opener 'The Black Serenade (intro)' is a short call to arms piece, followed by the both barrels blazing 'Gunfire' as it hurtles along with 'Kill The King' like power, especially from the drum battery of Bobby Rondinelli that drives this full blooded headbanger along and even more so with kick drum overload in the choruses.
A speaker rattling main riff for 'Bad Reputation' lays the foundation for some heavy AOR with a spotlight stealing lead vocal from Johnny Gioeli. 'Sign Of The Times' is seven minutes of heavenly melodic rock as keyboard dominated verses back a soul searching vocal but those massive riffs are never far away, especially in the grinding midsection.
A bombastic delivery of 'The End Of The Line' raises the heaviness bar high as sledgehammer drumming keeps a seismic beat throughout this metal monster with a lung ripping lead vocal to keep it in check. You can imagine a full stadium being lit up by thousands of mobile phones for the heartbreaking ballad 'As Blind As A Fool Can Be'. A heart on sleeve vocal floats on a tide of keyboards and laid back guitar lines. A fuzzed up riff dominates the sturdy progressive rock pulse of 'Wings Of The Storm' as it kicks into gear for a molten lead guitar solo outro.
The main riff of 'Waiting For Your Call' puts the power in this power ballad that should come with a loss of hearing warning due to the dynamics. A tasty reggae like opening riff for 'Living In A Dream' turns out to be the calm before the storm as it continues to pummel over prominent keyboards and fretboard burning guitar solos. This over the top album goes out on a blaze of glory with the epic 'Into The Fire'. It's a musical bond akin to a 'Kashmir' like groove over a main Sabbath like riff. Johnny clenches his fist to deliver his most emotional vocal and a foot to the floor outro is all soaring choruses and lead guitar virtuosity.
Sign Of The Times album track listing :-
The Black Serenade (intro).
Gunfire.
Bad Reputation.
Sign Of The Times.
The End Of The Line.
As Blind As A Fool Can Be.
Wings Of The Storm.
Waiting For Your Call.
Living In A Dream.
Into The Fire.
Axel Rudi Pell band line up :-
Axel Rudi Pell – Guitar.
Johnny Gioeli – Lead vocals.
Ferdy Doernberg – Keyboards.
Volker Krawczak – Bass guitar.
Bobby Rondinelli – Drums.