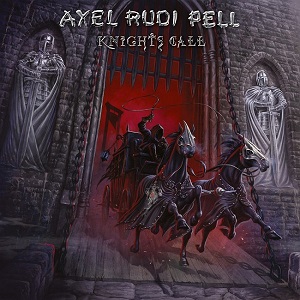 German guitarist Axel Rudi Pell released his first solo album way back in 1989. Now 29 years later he's releasing his 17th solo studio album. That's a lot of albums and doesnt even include live albums or solo albums, so he's clearly not the type of person to take things easy as he releases albums so consistently with less than two years between them. Over the years he's built up a strong following, particularly in Germany and other parts of Europe, and he's not messign with what made him successful by trying to go in a radical new direction – instead, it's more of the same, and to be fair that's no bad thing.
So what can you expect from the album? If you're a fan you'll already have a good idea what to expect, but for anyone else, you can expect som good solid rock songs, with plenty of emphasis on the guitar riffs and solos. While some guitarists solo projects are basically extended guitar solos with vocals etc added to give the pretence of them being real songs, with Axel Rudi Pell that's not the case – these are proper well crafted songs.
Johnny Gioli does a great job on vocals, in particular on one of the best tracks on the album, the ballad "Beyond the light" – a superb track.
It's a very good album, but it just feels slightly dated to me. Yes there's great guitar work, great vocals and strong choruses, but it just feels like a late 80s album. Is that a bad thing? Maybe not – clearly his fans don't think so, and I tend to agree with them. Well worth a listen.
Knight's call is out now.
Track listing:
1. The medieval overture (Intro)
2. The wild and the young
3. Wildest dreams
4. Long live rock
5. The crusaders of doom
6. Truth and lies
7. Beyond the light
8. Slaves on the run
9. Follow the sun
10. Tower of Babylon
Great guitar work, great vocals and strong choruses, but it just feels like a late 80s album