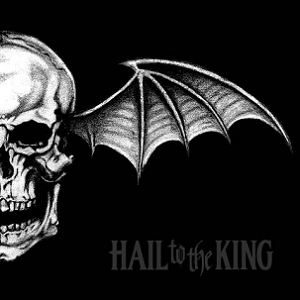 To say that Avenged Sevenfold have had a funny few years would be the understatement of the millennium. Having lost original drummer Jimmy 'The Rev' Sullivan in tragic circumstances at the end of 2009, the band have bravely battled on, releasing the excellent 'Nightmare' the following year (with help from drumming legend Mike Portnoy) and touring all over the world. Now, with previous touring member Arin Illejay as their permanent man behind the kit, the band's sixth studio album, 'Hail to the King', is released on Monday in the UK, with an arena tour already scheduled for the end of November/beginning of December and the title track dropping as lead single in the middle of last month.
One thing we've grown to expect from A7X is that they do like their epic album openings. 'Shepherd of Fire' is no different; the crackling of a fire, the toll of a bell – and then the sounds of guitars and horns closely followed by the drums and the bass, all building up into a straight hard rock number that retains the familiar swagger but is certainly a lot less complex than what we are used to from the band. 'Let's take a moment and break the ice so that my intentions are known' sings M. Shadows, 'I can promise you paradise, no need to serve on your knees'. The song is almost an open hand gesture to the listener, as if to say 'Don't think about what we used to be – come with me and experience the new in all its glory'. That said, the guitar solos are still very much present, allowing Synyster Gates and Zacky Vengeance to showcase their incredible talents once again. Indeed, it is the guitars that open the title track, a song that, having been out for over a month, is looking more and more likely to sound HUGE in venues when the band eventually hit the road again – every listen causes the song to go from strength to strength. Special credit must go to Mike Elizondo who produced the record because it all sounds massive, from start to finish
'Doing Time' sees the band pick the pace up from a stomp to a canter; a song that sounds a lot like Use Your Illusion-era Guns N' Roses in places, whilst 'This Means War' tips its hat to Metallica's 'Sad But True' in terms of tempo and musical style. As Shadows has said in interviews, the band wanted a 'very bare bones' and 'riff-orientated' album that was 'more blues rock-influenced and more like classic rock and classic metal in the vein of Black Sabbath and Led Zeppelin'. They have certainly achieved that on this basis; critics may say they've ripped off other bands on this record, but it is clear that this has not been intentional and that A7X simply wear their influences on their sleeves a little more than other groups. Besides, when you think about it, there are only so many note combinations, drum fills and guitar tones to go around, right?
Back to the album then, and whilst 'Requiem' breaks the stripped-back approach by including a choir, the majority of the song continues the trend of no-nonsense rock music. The first indications of blues-influenced rock come into to play on 'Crimson Day', which also heralds the album's first ballad, allowing Shadows to showcase his incredibly powerful voice that can project feeling and soul as well as harshness and spite. It's not a perfect album – 'Heretic' is actually more 'rock by numbers' than any of the others and could have been dropped without too much regret – but thankfully 'Coming Home' brings everything back up to the high standard with another fast paced effort that sees Gates and Vengeance trade licks and solos yet again. The finale sees 'Planets', another out-and-out slab of heaviness and 'Acid Rain', which brings in piano and strings to great effect and wraps up the album very nicely indeed. And, just as a side note, the song ends with the sound of thunder and rain falling, much like how debut effort 'Sounding the Seventh Trumpet' began. 'Life wouldn't be so precious dear if there never was an end' say the lyrics, a line that shows their former comrade is still very much a part of proceedings and will continue to be for a long time to come.
Talking of former comrades, young Arin Illejay's performance will have been under particular scrutiny given the boots he has had to fill. Well, let's make one thing clear– he is no Jimmy Sullivan. Although blindingly obvious, it is something that is worth mentioning because the drumming is a big factor in the band's shift in style. Illejay is a very gifted individual, no doubt at all, but it was always going to be a nigh-on impossible task to match the creativity that Sullivan brought to proceedings. As a result, the drumming is a lot simpler and a lot more in a standard 4/4 timing, which overall gives the album a more commercial feel than previous releases. But that's a very minor criticism because the band were aiming for a more straightforward approach on 'Hail to the King' in the first place. Overall, Illejay has done an exceptional job and will continue to grow in stature an ability as time goes on. Of course, the other side to Sullivan's contribution was his lyrical writing, and whilst it's fair to say that this has been of a lesser quality than before, it is still to a very high standard.
So, have we seen Avenged Sevenfold achieve their 'Black Album'? I think that's an impossible question to answer. It's certainly a departure from the sound of 'Nightmare' but then that was inevitable, and the business of this being their strongest release to date is all down to personal opinion. One thing that this reviewer IS certain of, though, is that 'Hail to the King' has easily done enough to cement the band's place as festival headliners in 2014 and beyond. At last, the rock and metal world has a successor to carry the torch onwards and upwards.
Avenged Sevenfold
M. Shadows – Lead vocals
Synyster Gates – Lead guitar, backing vocals
Zacky Vengeance – Rhythm guitar, backing vocals
Johnny Christ – Bass guitar, backing vocals
Arin Illejay – Drums.
Track Listing
Shepherd of Fire
Hail to the King
Doing Time
This Means War
Requiem
Crimson Day
Heretic
Coming Home
Planets
Acid Rain
Links
Website – http://www.avengedsevenfold.com
Facebook – http://www.facebook.com/AvengedSevenfold
Twitter – http;//www.twitter.com/TheOfficialA7X