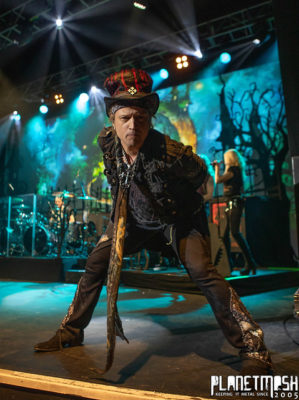 Tonight's show was an early start – 7.30pm on stage. That's not so the band can have an early finish but because they play long sets – almost three and a half hours tonight. That's a pretty impressive set length and is typical of Tobias Sammet's whole approach to Avantasia – everything is done on a huge scale.
If you havent seen Avantasia before then you might be surpised just how many of them there are. On the current tour there are probably around 15 band members, most of whom are singers. Whereas most bands have one main singer and maybe an occasional guest or backing singer, with Avantasia while Tobias Sammet does a lot of lead vocals he shares that task with a host of other singers. Those singers include Jorn Lande, Geoff Tate (ex Queensryche), Bob Catley (Magnum), Ronnie Atkins (Pretty maids), Adrienne Cowan (Seven spires) and Eric Martin (Mr Big). Throw in some backing singers too and it's a pretty epic lineup. It's an ever changing situation on stage with different singers coming out for different songs. On the albums Tobias uses different singers for different songs and on tour he replicates this as best he can, so "Alchemy" and "Invincible" which both appear on the latest album with Geoff Tate doing vocals are performed on this tour with Geoff Tate doing vocals, whereas "The Raven child" is sung tonight by Jorn Lande whereas on the album it's sung by Jorn Lande and Hansi Kursch. It's an impressive feat to get so many of the singers together for a tour like this and the singers he has available do an amazing job of performing songs whether they were the original vocalist or not.
It's my first time seeing them without Michael Kiske and Amanda Somerville but their absence isn't noticed – the lineup of singers here do an amazing job. All have their own unique vocal sound but the singers and songs have been matched perfectly so you always get the perfect choice to do full justice to the songs. Geoff Tate's performance was particularly impressive – his voice is still incredible.
An Avantasia show really is an epic event – there's no other band touring that puts on shows with so many top singers, as the only band that matches this scale is Ayreon and they just do one-off shows rather than full blown tours, but both bands put in superb shows with a whole host of singers and musicians.
The set tonight includes most of the new album (Moonglow), but that's still only a third of tonight's mammoth 24 song set and Tobias Sammet draws from the rest of the band's back catalogue to fill the rest of the set. It's clear as you watch the show that everyone there is having a great time on stage, Tobias Sammet in particular.
The only one problem with an Avantasia show is that I really feel my age and regretted not having a seated ticket as it's an exhausting three and a half hours when you're standing. Aching feet don't stop me enjoying Avantasia though. Sadly it'll probably be another couple of years before they play another UK date, and that can't come soon enough.
Setlist:
Ghost in the Moon
Starlight
Book of Shallows
The Raven Child
Lucifer
Alchemy
Invincible
Reach Out for the Light
Moonglow
Maniac
Dying for an Angel
Lavender
The Story Ain't Over
The Scarecrow
Promised Land
Twisted Mind
Avantasia
Let the Storm Descend Upon You
Master of the Pendulum
Shelter from the Rain
Mystery of a Blood Red Rose
Lost in Space
Encore:
Farewell
Sign of the Cross / The Seven Angels