ATREYU  present 'Carry The Fire'  two nights of Livestreams happening on November 20th and December 4th 2020
Californian nu-metal legends Atreyu bring the fire with an online exclusive, full stage production of not one but two live sets. The first show was determined by the fans and which songs they played the most on stream sites such as Spotify, even the band was surprised by some of the picks.
Tonight the beers were cheap and everyone had a front-row seat, courtesy of home streaming. Granted it's not a patch on being at a real live gig but Atreyu had gone beyond to deliver an exuberant set, from the stage lighting, cameras and importantly the sound. The band has worked extremely hard to give the fans an A-class show.
A thing that got long term fans in a tizzy was the departure of vocalist Alex Varkatzas earlier this year. If you're familiar with Atreyu, you'll know they've always had dual vocals in the band. Now the main clean vocals have gone too long time drummer Brandon Saller, who used to sing the dirty vocals. Screaming vocals has now passed to bassist Marc 'Porter' McKnight and boy can he growl !!
Sat poised and ready for the action, there was only a ten-minute wait before the Atreyu hit the stage. And a meaty 48-minute show ensued. Carrying the fire, the blistering bars of new single Save US rises out to its home audience. Sounding metalcore as ever, Brandon masters vocals duties with ease.  Tick-tock the anthemic chimes of  The Time Is Now packs a punch and the time is defiantly now on this powerhouse of a song.  I'm really impressed with Saller's vocals as he interacts with his non-existent crowd.
Firing up the machine is not an easy feat especially when you vibe from the crowd's energy. The light show is pretty impressive too. Although I do muse about the red lights being a feature through the show.  I'd be tutting from the pit if I was on-camera duties.  Some things don't change but it did make me smile; that you are still getting the full gig experience from the comfort of your sofa/couch!
Brandon seems bowled over at the fact Carry The Fire is happening, right now! 'oh my f*cking goodness' he says. Adding 'if you're sat down', 'to get up' and,  if you're up 'form a circle pit and stage dive into the couch!!' Great words of motivation!! As they sprint into Ex's & Oh's for a dark caress.
The stage lighting is immense, maybe there's a little too much spotlight but it does create a dramatic effect especially on Do You Know Who You Are, with classic guitar riffing from Dan Jacobs and Travis Miguel.  Bathed in a single spotlight with downward laser lighting, it creates a 'beam me up Scotty' vibe. As Brandon grabs his acoustic guitar the pace slows right down on The Theft, a beautiful ballad that explodes into a fusion of sound.
Go circle pit!!  The venom is back as Porter takes the lead on Bleeding Mascara. My ears are bleeding with joy and I really want to be in the pit for this one!! That's the downside to being home, alone, in a UK lockdown!! But hey, you should've seen my sofa dive!!
Tonight is an extraordinary night for Atreyu; you can feel the band is very much alive. 'Get the fuck up' is the backdrop, lit up on stage. There's nothing stopping them now as the assault of the yet to be released  Underrated takes form. A mash-up from death metal to group dual harmonic vocals. It is a fantastic achievement of where the band is now.  Definitely one of my favs from tonight.
Imagine electro beats and metal guitars and screeching death vocals. This amalgamation on Battle Drums really makes me want to be at a show, the stage lights have gone wild. The song should come with a warning –  'will drive you into a rock frenzy!' Wow, I'm really in the zone. This new song is slamming!
What I really find appealing about Atreyu is the diversity from 80s metal, to classic rock, to deathrock. You get a little of each on House of Gold.  Closing with Lip Gloss & Black. Atreyu has definitely put the pedal to the metal tonight!
If you missed night one of CARRY THE FIRE, you can still get your tickets to watch it at atreyumerch.com! Night two featuring Lead Sails Paper Anchor in its entirety is happening on Friday, December 4th at 6 pm PT/9 pm ET/2 am GMT.
https://atreyumerch.myshopify.com/pages/livestream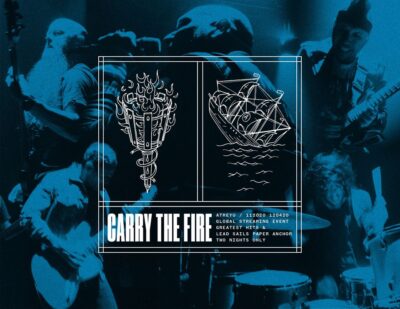 Atreyu (eh-trà-ú) is:
Barndon Saller – Vox (clean), Guitar
Marc 'Porter' McKnight – Bass, Screaming Vox
Travis Miguel – Rythem guitar
Dan Jacobs – Lead guitar/keys
Kyle Rosa – Drums/percussion