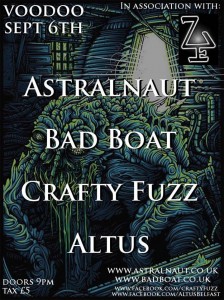 Despite having been formed less than two years, stoned doomsters Astralnaut have become on of the most popular – and accomplished – acts on the Northern Irish metal scene:  a fact evinced by the fact that, although this is their second headline show in the city in just under a week, an extremely healthy crowd has turned out on what proves to be the first evening of the autumn season…
Now, I have to declare an interest with openers Altus:  until last week, I had the pleasure of managing this fast rising young quartet, before handing over the reins to the mighty Blink Management (home of Stormzone and Rage Of Angels) to help take their career to the next level.  Having said that, I think it's only fair to note here that this is a band who have come on leaps and bounds in the three months since they hit the NI scene with the force of the Titanic colliding with an iceberg, and tonight they delivered another strong set, proving once again why they have attracted the interest of the 'big guns' in this part of Planet Mosh.
https://www.facebook.com/AltusBelfast
Dubliners Crafty Fuzz are rather unique in the stoner/doom mien, in that they are one of the few such bands fronted by a female, in this case the extremely sexy Babz Allen.  With the their line up and sound, comparisons with Purson are almost inevitable, and Allen certainly has the allure, stagecraft (she comes across as a cross between Janis Joplin and a hyperactive Kate Bush) and talent, to focus attention on the band for all the right reasons.  The three musicians – guitarist Chris Gledhill, bassist Alan Hanlon and drummer Ross O'Connor – are tight and focused, and is appropriately well-received by the highly appreciative and growing crowd.
https://www.facebook.com/craftyfuzz
There's a saying about waiting for buses – you wait for ages and then… well, the same can be said of Bad Boat gigs – silence for absolutely ages (in fact, the band had quit gigging back in 2009 and only returned to action last year) and then you see them twice in the space of just a few weeks. Having triumphed at the Monsters Of Rot festival just a couple of weekends ago, the lads once again deliver a set so heavy that Barack Obama subsequently has called for a UN investigation;  frontman Tom Clarke is his usual wide-eyed manic self, while the band concentrate on deliver another set of tsunami-inducing riffs, with Stephen Hobson once again hugely impressive behind the kit.
https://www.facebook.com/pages/Bad-Boat/204420306235906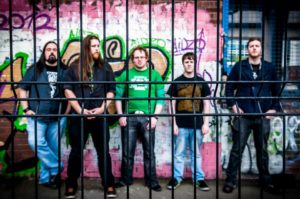 As I said at the top of this review, Astralnaut have quickly developed a reputation for their powerful live shows:  it is a rep which has been earned through sheer graft, determination, good old fashioned hard work – and, on occasion, downright bloody-mindedness.  It is also a reputation which is extremely well deserved, with tonight being another exemplar of this, as they deliver another set of groove-laden stoner doom, lying somewhere between the less overblown moments of Kyuss, the craft of Clutch and the bluesier elements of Down and EyeHateGod.  Musically, the four musicians are tight as fuck – bassist JonJoe Harrison and drummer Stephen Todd have gelled into an almost single unit over the past six months or so – while vocalist Thomas Mallon simply oozes confidence, with his slightly lighter touch augmenting the band's evolving sound perfectly.
Friday nights in Belfast really don't get much better than this…
https://www.facebook.com/Astralnautmusic