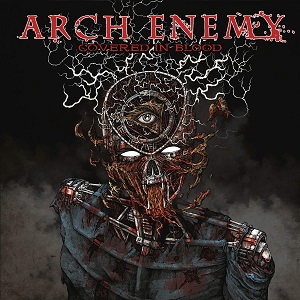 This isn't a normal Arch Enemy album – it's actually an album full of cover versions – 24 of them in fact. There's a wide range of artists covered including Tears for fears, Pretty maids, Judas Priest, Mike Oldfield, Iron Maiden, Queensryche, Manowar, Carcass, Discharge, GBH and Scorpions. The songs chosen span Metal, Punk, Hardcore, rock and pop.
The songs were recorded at various times over quite a few years, typically when recording an album. Most are released here for the first time but some have been released in the past – either as a bonus track or on a covers album. With having been recorded over a decade or more that means the vocals vary – some songs feature Alissa on vocals while some feature former vocalist Angela Gossow.
With such a mix of songs then it's likely that different people will prefer different songs on the album. Personally I think some work better than others. I particularly like the Mike Oldfield cover – "Shadow on the wall" which works brilliantly – it's a much heavier version than the original and the way the vocals have been done is brilliant. It still stays true to the original and is instantly recognisable. In contrast, some songs such as the KISS cover, "The oath" aren't so recognisable.
The Megadeth cover, "Symphony of destruction" is another great cover. Megadeth have an annoying tendency to mix the vocals too low, so with them being more prominent here it works well, but it's that distinctive guitar part that makes it instantly recognisable.
It's a great album – songs that got recorded mainly as a it of fun over the years and that would normally not have reached a wide audience are released here and it gives a bit of an insight into the music the band members listened to – eitehr growing up or more recently. It's nice to hear their take on these songs and there are some definite gems here.
The CD booklet is worth a read as it gives a bit of information about when the songs were recorded, why they chose them etc.
A great album – not a typical Arch Enemy album but one their fans are going to enjoy.
Track listing:
1. Shout (Tears for fears)
2. Back to back (Pretty maids)
3. Shadow on the wall (Mike Oldfield)
4. Breaking the law (Judas Priest)
5. Nitad (Moderat likvidation)
6. When the innocent die (Anti-Cimex)
7. Warsystem (Skitslickers)
8. Armed Revolution (Skitslickers)
9. Spräckta Snutskallar(Skitslickers)
10. The Leader (Of The Fuckin' Assholes) (Skitslickers)
11. City baby attacked by rats (GBH)
12. Warning (Discharge)
13. The Zoo (Scorpions)
14. Wings of Tomorrow (Europe)
15. The oath (KISS)
16. The book of heavy metal (Dream evil)
17. Walk in the shadows (Queensryche)
18. Incarcerated solvent abuse (Carcass)
19. Kill with power (Manowar)
20. Symphony of destruction (Megadeth)
21. Aces high (Iron Maiden)
22. Scream of anger (Europe)
23. Starbreaker (Judas Priest)
24. The ides of March (Iron Maiden)
A great album - not a typical Arch Enemy album but one their fans are going to enjoy.