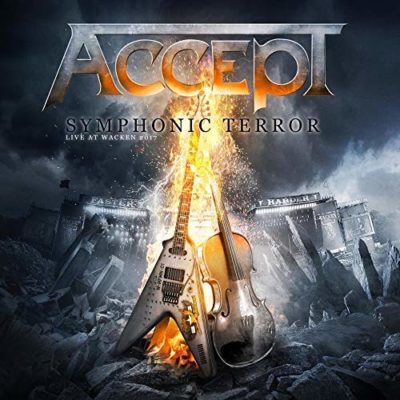 German heavy metal legends Accept performed one fo the biggest shows of their career in 2017 at Wacken Open Air festival. As if performing in front of 80,000 fans isn't enough, they made it extra special by performing with an orchestra, becoming the latest band to do something special for this amazing festival. Now they're releasing the performance on DVD, BluRay, CD and MP3.
The show was quite different to a typical Accept show as it's split into three distinct sections. For the first part, it's Accept performing by themselves, some new songs from "The rise of chaos" along with older classics "Restless and wild" and "Pandemic". The second part is Wolf Hoffman accompanied by an orchestra performing material from his recent solo album "Headbangers Symphony", which features metal versions of well known classical music pieces such as "Night on bald mountain". For the final part of the show, it's Accept performing a load of fan favourites accompanied by the orchestra.
The middle section was definitely a gamble – playing classical music at one of the greatest metal festivals in the world, and I'd imagine they were slightly nervous before going on stage, but it's a gamble that paid off as it's clear fromt he crowd reaction that they enjoyed it. It helps that the classical pieces are well chosen – most of them are pieces that I'm guessing most people would recognise whether it's from adverts, or movies or just snippets incorporated into Accept songs or other bands music, so the recognition factor will have helped. Hearing Wolf Hoffman's electric guitar along with the orchestra, the music sounds great and shows that classical and rock/metal can have a lot in common.
No matter how good the classical section, the final section is the bit most fans will be waiting for – hearing Accept classics with an orchestra to accompany the band. The songs really work well with the orchestra – I've heard quite a few bands perform with an orchestra and the orchestra is rarely used to it's full potential, but here it's used better than most bands manage it – the orchestra is fairly prominent in the mix which is nice to hear, rather than being drowned out by the guitars.
This is a great live release of an excellent performance. Once again a band has chosen Wacken to put on a special show and to then release it on DVD. It's no surprise since the bands are all filmed and recorded and the quality is always superb. In this release Accept perform with an orchestra and the results are excellent – the orchestra really works well with their music which is great as the band are reportedly planning to tour Europe with an orchestra in early 2019.
A great release that Accept fans are going to love.
Track Listing:
Disc: 1
1. Die by the Sword
2. Restless and Wild
3. Koolaid
4. Pandemic
5. Final Journey
6. Night on Bald Mountain
7. Scherzo
8. Romeo and Juliet
9. Pathetique
10. Double Cello Concerto in G Minor
11. Symphony NO. 40 in G Minor
Disc: 2
1. Princess of the Dawn
2. Stalingrad
3. Dark Side of My Heart
4. Breaker
5. Shadow Soldiers
6. Dying Breed
7. Fast as a Shark
8. Metal Heart
9. Teutonic Terror
10. Balls to the Wall
This is a great live release of an excellent performance.